With the ongoing worldwide pandemic, it has certainly been a while since we've talked superheroes and comic book characters. DC's Birds of Prey hit theaters about a month before they shuttered and suffered diminished box office returns for various reasons. Disney and Marvel had intended to release Black Widow, the first film of Phase Four in the Marvel Cinematic Universe, in early May. Though, like most other major titles here in 2020, the film has been delayed. It should be considered a bit of a surprise, then, that a new superhero/comic book inspired film just recently dropped on Netflix. Gina Prince-Bythewood's adaptation of Greg Rucka's comic series, The Old Guard, is a bit unspectacular and lacking vision but it still has some good action, fun banter, and solid performances.
Over the course of his career, Rucka has been attached to numerous popular comic book characters. He has written arcs like Bruce Wayne: Murderer?, Bruce Wayne: Fugitive?, and Death and the Maidens for Batman as well as the novelization of the Batman: No Man's Land story. He has also been a writer for Batwoman, Wonder Woman, The Punisher, and Wolverine among others. He created the four issue limited series, Whiteout, for Oni Press in 1998 as well as the ongoing dystopian science fiction series, Lazarus, for Image Comics in 2013. The former title was even adapted into a feature film of the same name in 2009. Needless to say, Rucka's name has been one to know in the world of comics. With The Old Guard, Rucka tries his hand at screenwriting for the first time working together with director Gina Prince-Bythewood to bring his vision to the screen.
Set in the modern day, the film follows a team of four immortal mercenaries led by Andromache of Scythia AKA Andy (Charlize Theron). Andy, along with Booker (Matthias Schoenaerts), Joe (Marwan Kenzari), and Nicky (Luca Marinelli), are led into a trap by former CIA operative Copley (Chiwetel Ejiofor) which exposes their regenerative healing powers. Pharmaceutical executive Steven Merrick (Harry Melling) then sends a team to capture the immortals for scientific examination and research. At the same time, a young United States Marine named Nile Freeman (KiKi Layne) is nearly killed in Afghanistan when it's discovered that she's also an immortal. After sharing a dream of one another, Andy tracks down and recruits Nile to join the team while thwarting Merrick.
When it comes to the plot of The Old Guard, it's serviceable. Overall, it's pretty bland and there's not a lot to latch onto in terms of the whole story but it gets the job done. You mostly understand the characters and their dilemmas. The biggest issue with the plot is that it's just not told very well within the confines of the film. Almost everything that viewers need to know is relayed through uninteresting exposition dump scenes. Andy will often just tell Nile segments of backstory before saying that she should "get some sleep" or "change clothes" before the next big action scene. As we've discussed in numerous other reviews in the past, this type of storytelling is just lazy and maybe shows Rucka's inexperience as a screenwriter.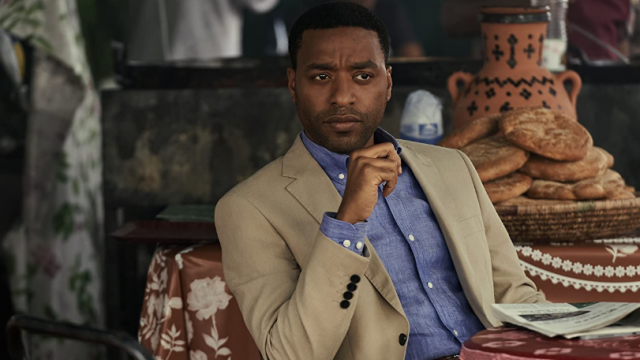 The only thing that kind of bails Rucka out is the solid cast and their ability to convey the story relatively well. Andy's fellow immortals are all interesting characters if not as fully fleshed out as one would like. Matthias Schoenaerts, who's had a ton of film roles throughout the 2010's, is an emotionally troubled and conflicted ally as Booker but maintains a sense of allegiance towards Andy throughout. Marwan Kenzari fares much, much better as Joe in this film as he did as the miscasted villain, Jafar, in last year's Aladdin. Him and Luca Marinelli's Nicky provide some of the more lighthearted moments of The Old Guard and are likable as a tandem. Chiwetel Ejiofor's talents go a little unheralded here as he just isn't given much to do as he gives way to Harry Melling's immediately despised Merrick. Without spoiling anything, you understand what they're trying to do with some of these characters but sometimes it does feel like The Old Guard is more of a setup for a sequel than trying to provide an effective first outing.
To maybe no one's surprise, Charlize Theron continues her trend of being the bad ass female action lead. As Andy, Theron essentially mixes traits from her role as Imperator Furiosa in Mad Max: Fury Road with that of Lorraine Broughton from Atomic Blonde. While Andy surely isn't as memorable as either of those two, the amalgam of the two works to define this character. Theron's reactions and facials are excellent and, like with Furiosa, sometimes Andy's silence is more telling than any line of dialogue could ever be. When she has to get physical, Theron is very convincing in being able to take on anyone. In particular, her early melee with KiKi Layne's Nile on an airplane is probably the highlight of the film. Speaking of Layne, she does a fine job herself but frequently feels like she's there to continue guiding the plot along.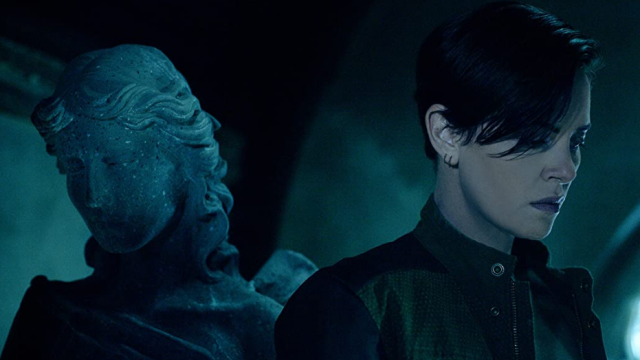 Where The Old Guard really stumbles is with its lack of identity. This film just can't decide what it wants to be. The action scenes, including the aforementioned one on an airborne plane, are really great. They're also shot well as they avoid that incessant shaky cam nonsense that so many action filmmakers turn to. It's just that there's not much to keep viewers invested in between the action set pieces. There's just enough to keep the characters interesting but, at two hours in length, The Old Guard is desperately in need of some additional substance. On top of everything, it's a very bland looking film. The comic's artwork from Leandro Fernandez is simply awesome and oozes style. Colorist Daniela Miwa provides the icing on the cake with striking color palette that the film adaptation sorely lacks. Instead, viewers get a generic looking action thriller that's just not in line with the source material.
Our Score
The Old Guard is one of those films that's going to just barely escape with a recommendation. Though, this is mostly because of its potential as a series. With this first entry, we have a film that's trying to run before it can walk. The characters, bolstered by a good cast, need to be more fleshed out and provided with more logical scenarios. There are times when they can easily wipe out entire swarms of attackers. Then, the next scene will have them being easily captured. Additionally, it seems like maybe Rucka was too interested in getting to a more interesting sequel than it was in firmly establishing this as a potential film series. While The Old Guard is a fair attempt at kickstarting a franchise, it lacks vision and anything to make viewers and fans clamor for more of this story.
*The Old Guard is currently available to stream on Netflix.*