Finally. Often times, it seems like we're quite critical of the length of television seasons here at Cinema Smack. This is with good reason as so many shows meander in a type of questionable "more is more" approach. More of something isn't always a good thing especially when it comes to media. That's why it's such a relief that Netflix's newest series, Russian Doll, champions the idea of "less is more." With a mere eight episodes set at a brisk 25-30 minutes each, Russian Doll is the perfect length for a quirky and fun show with some serious bouts of self discovery.
As everyone should know by now, Netflix has been producing some of the best episodic content available since House of Cards first premiered, coincidentally, six years to the day before Russian Doll. The show's eight episodes dropped on the streaming service on February 1st. It was created by the trio of Leslye Headland, Amy Poehler, and Natasha Lyonne, who also stars. Headland is a playwright and screenwriter best known for her films Bachelorette and Sleeping With Other People. The former was also a play. Of course, Amy Poehler gained popularity from her stint on Saturday Night Live and, later, Parks and Recreation along with appearing in numerous films. Natasha Lyonne has been a mainstay on the big screen for years now. Most probably recognize her from her recent role as Nicky Nichols in Orange is the New Black. She has also appeared in films like Slums of Beverly Hills, Detroit Rock City, and the American Pie franchise.
Russian Doll stars Lyonne as Nadia Vulvokov. Nadia celebrates her birthday by attending a party that her friend, Maxine (Greta Lee), throws for her. However, Nadia is soon hit by a car and killed. She becomes stuck in an endless loop which returns her to Maxine's bathroom at the exact same moment as she continues to perish in a multitude of ways. Through some trial and error, Nadia is able to leave the party as she tries to figure out why she keeps dying and returning to the bathroom. Meanwhile, a man named Alan Zaveri (Charlie Barnett) encounters the same issue following a breakup with his girlfriend, Beatrice (Dascha Polanco). Nadia and Alan eventually meet and attempt to solve their problem together.
The time loop idea is certainly nothing new in Hollywood. Most people will immediately think of the 1993 film, Groundhog Day, in this regard. Bill Murray plays a weatherman covering Groundhog Day festivities when he finds himself reliving the same day over and over. Other films like Run Lola Run, Edge of Tomorrow, Happy Death Day, and even Netflix's own 2016 film, ARQ, have featured a similar premise with time loops. That being said, Russian Doll doesn't necessarily feel like a copy of any of these. It definitely feels most similar to Groundhog Day especially with Harry Nilsson's "Gotta Get Up" acting as the show's version of Sonny & Cher's "I Got You Babe" from Groundhog Day.
One of the biggest differences is the link between both Nadia and Alan. Their fates are interconnected with some of their actions snake bitten as a sure bet to provide instant death. In contrast, Groundhog Day shows Bill Murray's Phil Connors running roughshod over the town of Punxsutawny if he so chooses. It's more of a film about Phil evolving into a decent man and leaving behind his unsavory traits. That film dabbles with the idea of death too but it's never predetermined as is the case with Nadia and Alan's experiences throughout Russian Doll. For Nadia and Alan, their journey is about self discovery and figuring themselves out as people. As two somewhat private and particular people, they form an odd couple sort of tandem but it's necessary for them to hopefully break the time loop.
For the majority of her career, with the exception of Slums of Beverly Hills, Natasha Lyonne has been a supporting act to other stars. With Russian Doll, she finally gets her chance to shine. Her onscreen electricity has been undeniable despite never being a true lead actress. Whether it's Vivian in Slums, Jessica in American Pie, or Nicky in Orange is the New Black, Lyonne has always unapologetically been herself. Even though her characters often come off as somewhat crude, Lyonne has a swagger that she brings to every role that's so likable. It's great to finally see her get an opportunity to carry an entire show. Her chemistry with Charlie Barnett's tightly wound Alan jumps off the screen. Both Nadia and Alan are very different characters but, again, there's just something special about the two of them together.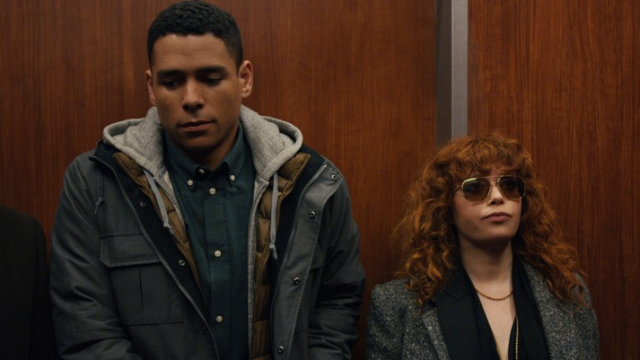 The characters drive the show and the supporting cast is just as good as Russian Doll's two leads. Throughout the show's eight episodes, it digs deeper into the secrets behind all of its characters. There are a lot of strange, quirky, and amusing moments that are simply entertaining. You get to see character reactions to each other as they endlessly encounter the same scenarios and supporting cast. Many of these have to do with Brendan Sexton III's character, Horse, who leaves viewers with many questions. Based on reactions from Nadia and Alan, there are little wrinkles that change said interactions between characters. There's also a lot of levity with Greta Lee's Maxine, Rebecca Henderson's Lizzy, and Elizabeth Ashley's Ruth.
Speaking of levity, this isn't to say that the show ever gets overly dark or preachy either. For the most part, Russian Doll is a journey of self discovery for its two main characters. Yet, it's all in a positive light. There are some negative interactions and some shady dealings but neither Nadia nor Alan ever come off as bad people in the way that Bill Murray's Phil did in Groundhog Day. You genuinely want to see them figure out and break the time loop. When things go awry for them, there is a sense of worry and sadness. This is especially the case later on in the season. Of course, we won't spoil any details here.
Similarly to other Netflix shows like GLOW and Maniac, Russian Doll hits a sweet spot. There's enough comedy, drama, and eccentricity to scratch the itch for viewers of all types. Being so brief also helps the show greatly as it never overstays its welcome and still says everything it needs to say. More shows need to take this approach because, in most cases, seasons that last for thirteen or more episodes are simply too long. With Russian Doll, you're left wanting more but also wholly satisfied with what you're given. At this point, a second season has yet to be announced. If this is the only season Netflix releases, it'll be perfect just the way it is. Though, if it's anywhere near as good as the first season, a second would be more than welcome too.