"The mind is a mysterious thing." Perhaps this is a cliched statement but, in some cases, it's the best assessment. There are countless films that like to toy with audiences and cause misdirection. Some do it just for the sake of being as abstract as possible but others are actually able to tell a riveting story while encouraging viewer interpretation. This is where Christopher Di Nunzio's new short, I Am a Rain Dog, falls on the spectrum. The film certainly has its experimental qualities but leaves a long lasting impression as the credits roll.
The film opens with Valentine Biltmore (Kris Salvi) drinking alone in a hotel room. At some point prior to the start of the film, Valentine realizes that he has become lost while driving and can't figure out where he's supposed to go or how to get there. There's an expected knock on the door and a mysterious stranger named Vernon Weiss (Fiore Leo) enters. Vernon is a specialist and guide of sorts who's contacted by Valentine to get him back on track.
First and foremost, I Am a Rain Dog isn't necessarily a straightforward story. Although the events progress logically, the deeper meaning of the film is in its definition of being lost. Valentine may, in fact, be physically lost but his real issue is existential in nature. As a viewer, it's compelling to listen to the characters discuss Valentine's current predicament. The dialogue encourages perception of the who, what, where, when, why, and how of the issue. Though we may not get all of the answers we seek, the film takes viewers on a surreal trip reminiscent of some of David Lynch's best work. The film almost seems like a Dale Cooper vision from Twin Peaks. You'll hang on every word as your mind fills in the blanks as to what is really going on with these two characters.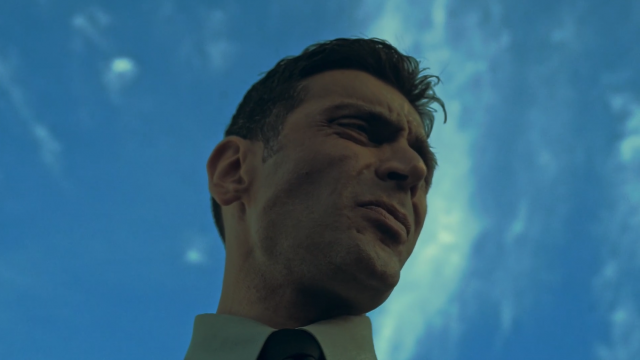 It comes as no surprises that the performances from Kris Salvi and Fiore Leo are what make I Am a Rain Dog. The script itself kind of leads its characters and audience in circles. Yet, there's something about Salvi and Leo that commands attention. Salvi, who also pens the screenplay, appears disheveled in what has to be a Tom Waits inspired performance. His outfit, hair, and even his voice (perhaps coincidentally) have a quality that Waits fans will be sure to pick out in a heartbeat. Then, there's Fiore Leo who adds to the film's dreamlike quality. Leo is a frequent collaborator of the director and you can see why. As he towers over Salvi's Valentine, you almost wonder if he's real or just a figment of Valentine's imagination. He serves as a voice of reason and helps sort through Valentine's information or lack thereof. Justin Thibault also has a role in the film and does a good job with his brief runtime.
Speaking of Tom Waits, there's no doubt that this film is influenced greatly by him. From Salvi's appearance to the title coming from the song, "Rain Dogs," it's abundantly clear. Even the name "Valentine" may come from the 1978 album, Blue Valentine. Though, these certainly aren't bad things. The term "rain dog" describes someone who's lost and cannot find his/her way so the influence isn't just shoehorned in. Waits is an eccentric and hugely talented musician and actor whose work is experimental and surreal in its own right. It's unclear if Waits was the lone inspiration for the film but Salvi's work on his character as well as the screenplay moreso pays homage to Waits. There isn't really a direct adaptation of a Tom Waits song or anything so non-Waits fans won't be rain dogs themselves here. Though, the most unfortunate thing about I Am a Rain Dog is the lack of the actual Tom Waits song playing over the end credits. That would've been perfection.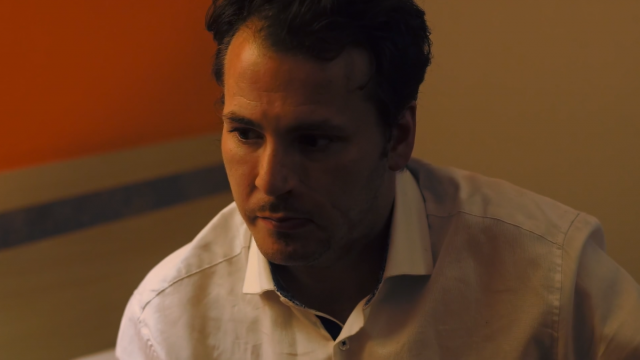 Outside of that, there's not much to get down on when it comes to this film. Yet, there is one thing in particular. While the reveal of Justin Thibault's James Krumpt is handled well, it's hard not to wonder if a more ambiguous ending wasn't the way to go. The intriguing interaction between Valentine and Vernon is what drives the film and adding a third character into the fray changes the dynamic slightly. Again, Thibault does a fine job in his role but he also brings a bigger sense of reality to the overall story. When it's just Valentine and Vernon, it's easier to question if things are truly as they seem. With a film as enthralling as I Am a Rain Dog, this is a minor nitpick though.
Our Score
With this film, Di Nunzio and Salvi have put together an excellent piece of short cinema that gets better with every watch. In this case, multiple viewings are encouraged to fully absorb all that the film has to offer. From Valentine's immediate problem to his existential crisis, there's so much to pick apart, analyze, and interpret. In addition, it's just fun to watch two actors take you on a journey throughout the film's eleven and a half minutes. Needless to say, I Am a Rain Dog is highly recommended viewing if you have a chance to see it.
Check out the trailer below.