There have been many outlandish ideas for films since the inception of cinema. If you've thought about it, the chances are that someone else has probably made it in one way or another. Yet, when you throw together things like dating, monsters, video games, and the LGBT+ community, you may be hard pressed to come up with an example encompassing all of these off the top of your head. Then, you add in a splash of documentary filmmaking and it complicates matters even further. Somehow, first time writer/director Marley Jaeger manages to combine all of these elements into her debut film, Simon's Quest.
Jaeger's film sees a two person crew, Gwen (Talley Gale) and Robert (Lucas Brahme), documenting the life of Simon (Johnny Pozzi). Simon, an openly gay man, hasn't been able to land a date since his previous lover turned him into a werewolf years prior. Following the life changing event, Simon has struggled greatly in being accepted by others. Gwen and Robert do their best to assist him by pushing him back into the dating pool and find his place in the world.
The way that Simon Quest plays out is pretty straight forward. Many films in the past have used a documentary/found footage style to mask deficiencies. However, this film seems to use it more as a style than necessity. The progression of events allows viewers to get to know Simon by playing on familiar tropes that go hand in hand with werewolves. Simon talks about things like the moon, wolfsbane, and silver bullets which are all often represented in monster movies. Though you never get to see Simon actually turn into a werewolf, the shooting style makes you wonder whether or not he actually is a monster or if he's simply delusional. For budgetary and special effects reasons, it's understandable why we never see the transformation but it doesn't really feel like a missed opportunity within the context of the film either.
There's no doubt that Simon's fear of outing himself as a werewolf is a direct reference on how difficult it can be for people to come out as lesbian, gay, bisexual, transgender, etc. It's actually done in a clever way as the film plays it out realistically with Simon seeking help from his friends, Gwen and Rob, and visiting support groups with other monsters. In Simon's case, his lycanthropy is basically treated like a sexually transmitted disease. Yet, the fact that the character is gay in addition to being a werewolf is almost overkill. The overall story feels more like it's about Simon being a monster as opposed to being homosexual. The film could still tell the same story in the same way without needing to continuously remind viewers of the parallels between the two. However, being able to label the film as being LGBT+ does possibly put a little more spotlight on it. Ultimately, there's nothing wrong with Simon being both gay and a werewolf but the film feels slightly less clever when taking away some of the interpretation of its message.
One thing that gamers may notice immediately is the title, Simon's Quest. The film's name comes from the 1988 video game Castlevania II: Simon's Quest for the Nintendo Entertainment System. In the game, the main character, Simon Belmont, fights through hordes of monsters to eventually make his way to defeat Dracula. Surprisingly, the original Castlevania does make an appearance in the film and is talked about in a conversation between Simon, Rob, and Gwen. No, this film isn't about gaming but it's fun to see the Castlevania series get some love while also being relevant to the story. There's even a television commercial for Axe Alucard. Alucard, of course, is Dracula spelled backwards and he has often been known as the son of Dracula. While the Castlevania reference may not be the focus of the film, it provides plenty of Easter eggs and connections to the character of Simon throughout the runtime.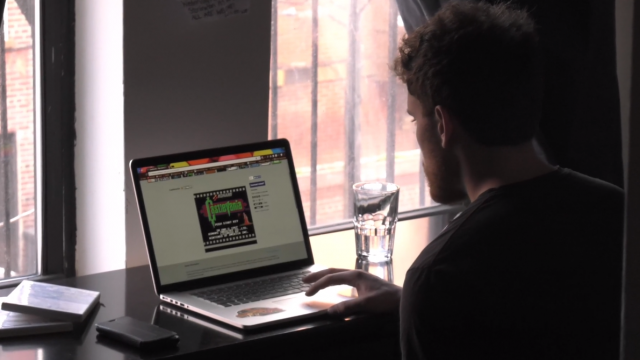 Though the film is entertaining and keeps your interest throughout, there are some issues with it. The main problem is that the film doesn't seem to know what it wants to be. In its 22 minutes, Simon's Quest mixes elements of drama, comedy, and horror all in one. Some films, like The Evil Dead, do a good job with this as there's an overall tone to the film. With Simon's Quest, the tone bounces back and forth. In the beginning, there's definitely a horror element as we first meet Simon and learn about him being a werewolf. Shortly after, Gwen is playing fetch with him at a park. It's a funny sequence because of how ridiculous it is but it's a lot different than the previous scene. Then, there's the drama of Simon's dating life which tends to be taken much more seriously than other events like the support group scenes. None of the scenes are bad but they just feel disjointed as an overall product.
Our Score
Despite some of its shortcomings, Simon's Quest is a fun and unique short film. It takes a relatively generic idea and turns it on its head to give viewers something different. Arguably, the best scenes come from the support group where other monsters in human form discuss their own afflictions. Of course, Cinema Smack favorite Timothy J. Cox makes a brief appearance here as Pat, a non-creature running the support group, in a quickly humorous scene. That's kind of what the film feels like in general: a collection of well done scenes. Writer/director Marley Jaeger does a great job in this first outing and shows range throughout. Sure, there may be room to tighten some things up tonally but Simon's Quest is certainly worth a watch nonetheless.
Check out the full short film below.
Simon's Quest from Marley Jaeger on Vimeo.