Here in 2020, viewers have been exposed to everything. With lewd comedies like Porky's, American Pie, and Sausage Party, seemingly nothing is off limits when it comes to sexual situations in comedy. Given that taboos have kind of become the norm in these types of comedies, it's always refreshing when someone does something a little different. Despite its suggestive subject matter, Steve Blackwood's new short comedy, Stuck, aims to buck the trend. Instead, it offers a relatively wholesome and warmhearted tale with purpose over the course of its runtime.
The film follows George (Blackwood) and Helen Simon (Sandy Bainum), a married couple set to host a dinner party for some friends/clients. Everything appears to be in order as the Simons are trying especially hard to impress their guests. However, things go awry when an enthusiastic delivery driver named Finn (Max Schochet) shows up with a large package. In an attempt to spruce up their sex life, George ordered the Love Trap 3000 which, coincidentally, is being delivered at the most inconvenient of times. Even worse, Finn gets inexplicably stuck in it during assembly and now the Simons need to figure out a way to host their dinner party without their guests stumbling across a kinky surprise.
Judging by the plot alone, you'd think that Stuck is a typical raunchy comedy with plenty of amusing visuals and interactions stemming from the sex machine. On the contrary, Blackwood focuses solely on dialogue, facial expressions, and character interaction as the source of comedy. The jokes come rapid fire throughout Blackwood and David Susman's script. If possible, repeat viewings are highly recommended to catch all the witty quips and comebacks that viewers will surely miss the first time around. Thankfully, it's not all risqué humor either. Again, it's more situational banter that provides laughs and keeps the story moving at a brisk pace.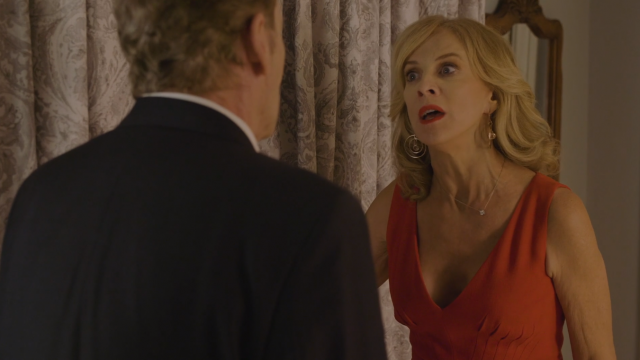 For this, a lot of credit needs to go to the acting chops of Blackwood, Sandy Bainum, and also Max Schochet. Blackwood's George comes off as dry and somewhat aloof in regards to impressing his peers. He's not really interested in the dinner party but goes through with it because of his wife. Bainum's Helen is under constant pressure to not only make sure everything is taken care of with Finn and the sex machine but to also host the perfect evening. The couple's friends are extremely judgmental and can make or break the Simons' reputations. The facial expressions from both Blackwood and Bainum tell the potential horror story of their guests discovering their dirty little secret to great success. Their reactions to one another are always humorous and there's an undeniable chemistry between the two as they bounce off each other with ease. Not to be forgotten despite his limited screen time, Schochet is a ball of carnal energy. As Finn, he aims to rack up enough customer service points to attend his company's orgy Christmas party in Cabo while also pushing George to get the most out of his Love Trap 3000.
As was the case with Blackwood's previous short, Meet the Author, Stuck isn't all about humor and characters though. There's also a lot of heart in the film's final moments. It almost comes out of the blue since the focus of the film mainly revolves around the predicament with the sex machine. Prior to the issue with Finn, the Simons are so preoccupied with the dinner party that they kind of forget their reasoning for having it in the first place. In today's society, there's such a need from people to impress others and win their respect. It's kind of a toxic mindset as it feels like so many people live their lives according to how they want to be perceived instead of just doing what makes them happy. This is something that the Simons are able to realize and, hopefully, overcome even in the strangest of circumstances.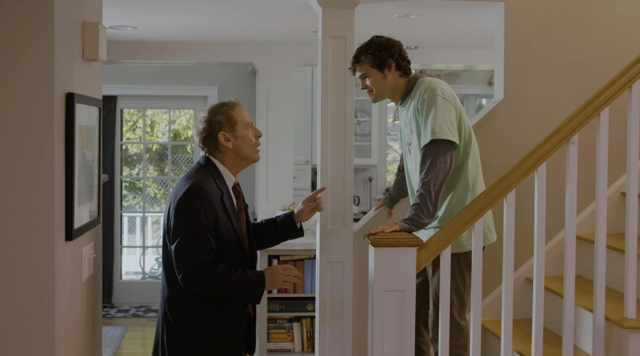 All fourteen minutes of Stuck are an absolute joy to watch. Yet, there are some minor nitpicks to be had. As previously mentioned, the rapid fire pacing of the jokes may have you missing them during an initial viewing. While this will have you wanting to watch the film again, there are spots where you'll find yourself wondering what was said and if you missed something important. Also, it's a bit of a letdown that there's never a real payoff with either the Love Trap 3000 or Finn. It's kind of like the briefcase in Pulp Fiction where you want to know what's in it. Here, you want to experience the spectacle but it never comes. Though, it does pave the way for the more heartfelt conclusion so it kind of evens out in the end.
Our Score
Stuck is another excellent short from veteran actor turned writer/director Steve Blackwood. Like his previous work on Meet the Author, this new film displays Blackwood's knack for funny, quirky, and heartfelt stories. The quick pacing and snappy dialogue causes the film's fourteen minutes to breeze by in an instant and thoroughly entertain as well. With this type of story, many filmmakers would've gone with racy and explicit humor but Blackwood keeps things relatively wholesome here. It's kind of reminiscent of something like the classic TV sitcom Three's Company in that respect. All in all, Stuck is a film worth seeking out for a playful and witty tale with a real life lesson at its core.