While narrative is often the crux of filmmaking, it's always a treat to see what filmmakers can do with little to no story. A few months back, we reviewed a short film entitled What Jack Built. That film was directed and co-written by Matthew Mahler with a lone actor in Timothy J. Cox. With no dialogue or cause and effect driven story, the film still managed to draw you in for the ride with its lead character. Today, we enter familiar territory with the third collaboration between filmmaker and actor in another rock solid short, To Be Alone.
Again, the film stars Cox as the main character, Will. It opens with him sitting in his living room with a blank expression on his face. The events continue in a non-linear fashion as we see Will trying to sleep, constructing something outside, and channel surfing in his kitchen while frequently stopping to watch a televangelist. He also receives phone calls from Sheriff McCarthy (John Mahler) who's seemingly checking in on Will's well-being. As the film continues, we're given more insight to Will's grief and further understanding of his isolation.
While watching To Be Alone, Mahler's previous film, What Jack Built, often comes to mind. The use of a troubled main character, albeit in different ways, and their erratic actions jump off screen. The parallels especially hit home when you see Will building something just as Jack had done to offset the respective characters' issues. Of course, the collaboration between Cox and Mahler is also an obvious similarity. Yet, the films are definitely separate entities. Whereas What Jack Built was quickly paced and almost manic, Mahler and Cox take a much more deliberate approach with Will. He's a man experiencing sorrow and loneliness while their take on Jack was much more lighthearted and fun.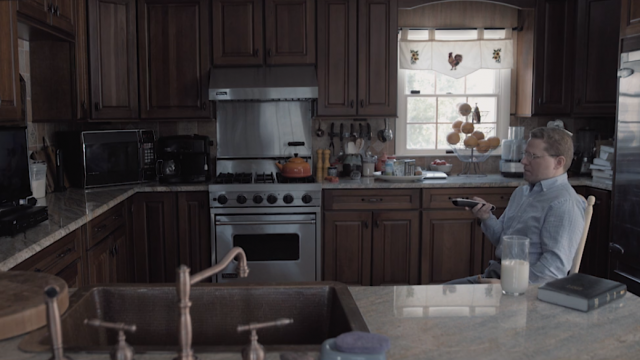 As is always the case, Timothy J. Cox gives another wonderful performance in a short film. Whether he's in the lead or serves in a bit role, Cox always finds a way to draw your attention to his characters. To mention What Jack Built again, it's amazing to see how similar but different Cox's two characters are. Will is much more subdued than Jack in terms of his relief tactics. His anguish is more on an emotional level than perhaps Jack's paranoia and lunacy. Though, in an odd way, you could maybe see Will eventually devolving into Jack years down the road if his issues aren't dealt with properly.
Technically speaking, To Be Alone is fantastic. It looks and sounds wonderful. Will's house is very spacious and neat but there is an emptiness to it which is certainly not by mistake. The film's chilly winter setting helps add a sterile feel to it as well. The best part of the film, though, is the music. It begins with a single piano note which slowly builds to a haunting crescendo between the four and five minute mark. In a scene where the camera trails Cox's Will, the music is like something straight out of a horror film. It's easily the highlight of To Be Alone and it leaves a lasting impression well after the scene's conclusion.
In terms of its technical aspects and its acting, To Be Alone is a superb short film. There's only one major flaw that hampers it. Its story, which, as we stated earlier, is minimal, is also quite predictable. From the very start, you get a pretty good idea for what contributed to Will's sadness. You may not figure out everything that will happen in the events moving forward. Yet, you'll be left feeling like the idea wasn't fully unique or original either. On the contrary, What Jack Built was so unpredictable that it does make you yearn for more here.
That being said, To Be Alone is still an excellent short film. While it loses some points for its predictability, it excels on the technical level. Then, when you compare it to Mahler's other film, What Jack Built, it feels like an interesting companion piece. It's as if both Will and Jack live in the same universe where things are just slightly skewed from what we know in the real world. Judging by these two films, Matthew Mahler has a dark side to him and that's what makes his work unique. There's also a beauty to this darkness though and, with To Be Alone, Mahler continues to prove himself a more than capable filmmaker.