Last year, Netflix set the world on fire with its fantasy/horror/science fiction/drama/everything show, Stranger Things. We even praised it up and down in our wrap-up last year. As could've been assumed from the first season's popularity, Matt and Ross Duffer return to bring the characters (old and new) of the fictional town of Hawkins, Indiana back for another go-round. Stranger Things Season 2 premiered last month on the streaming giant just in time for Halloween. Does it hold up when compared to the previous season or was the show merely a flash in the pan?
Let's start with a quick refresher. Stranger Things was created by the Duffer brothers after they expressed a desire to direct a theatrical version of Stephen King's It. Of course, they didn't get the job but, instead, crafted a very King-esque story with Stranger Things. A local boy, Will Byers (Noah Schnapp), mysteriously goes missing as supernatural events begin occurring in Hawkins. As Will's friends, Mike (Finn Wolfhard), Dustin (Gaten Matarazzo), and Lucas (Caleb McLaughlin), search for him, Eleven (Millie Bobby Brown), a young girl with telekinetic abilities, emerges and is befriended by the boys. During the season, it's discovered that Will is trapped in an alternate dimension known as the Upside Down and Eleven is the key to bringing him home.
Stranger Things Season 2 kicks off nearly a year after the events of the first season. Will, reunited with his mother, Joyce (Winona Ryder), and brother, Jonathan (Charlie Heaton), remains somewhat traumatized by his time in the Upside Down while trying to return to normalcy. Similarly, Mike, who falls in love with Eleven, pines for her daily following her sacrifice at the end of Season 1 and is unable to adjust to life without her. Strange occurrences begin once again as Will suffers hallucinations of the Upside Down and an impending attack on Hawkins. In addition, Dustin harbors an unknown creature, who he names "Dart," with potential ties to the alternate dimension. Meanwhile, Chief Jim Hopper (David Harbour) becomes a surrogate father to Eleven who no one knows survived the encounter at the end of Season 1.
One of the most appealing aspects of the inaugural season of Stranger Things was its cast. This is also one of the strengths of Season 2. All of the main characters return and rekindle their relationships with one another after the traumatic events they experienced. Where the majority of Season 1 was spent building the relationship between Mike and Eleven, Stranger Things Season 2 allows much more development to the characters of Dustin and Lucas. Mike actually feels as if he's a little more in the background this time. It's also somewhat different having Will as a part of the group for the full season. The group actually felt less fractured without Will than it does with him. Though, this does work for the story given Will's continuing trauma and Mike's loss of Eleven. Either way, these characters have good chemistry overall and it's nice to see them again.
There are also a number of new characters introduced. Sean Astin has his moments to shine as Joyce's geeky, yet kindhearted, new boyfriend, Bob. Paul Reiser steps in as Sam Owens, the director of Hawkins' laboratory, following the death of Matthew Modine's Martin Brenner. The most welcome addition, though, is Sadie Sink as Max. She plays the role of the new girl in the group of boys and is an interesting contrast to Eleven. Mike isn't keen on accepting her into the group as both Dustin and Lucas vie for her affection. On another note, Dacre Montgomery as Max's brother, Billy, doesn't offer much to the overall story.
As was the case last year, the character of Eleven must be addressed separately. Once again, Millie Bobby Brown is absolutely electric onscreen. Like Mike and Will, she too is having a hard time adjusting to life following the events of Season 1. Her and Hopper have a somewhat tumultuous relationship as he tries to overbearingly protect her. He continuously promises her that she'll be able to see Mike soon as the days keep piling up. This leads her to seek out her birth mother before going on a brief journey of self-discovery in which she encounters another character with abilities. The show is hurt slightly by Eleven's story being kept separate from the others. However, when everyone finally reunites, it's a touching moment that makes it all worthwhile.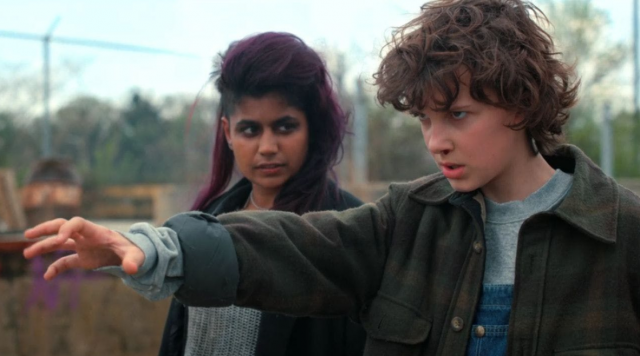 Like the first season, there's a lot of 1980's nostalgia to take in. Whether it's old arcade game cabinets, electronics, or its massive 80's soundtrack, the retro vibe is everywhere. At times, it's almost too much. Similarly to how Suicide Squad incessantly used hit music to pop its audience, Stranger Things does the same. Big name bands like Devo, Scorpions, Metallica, Queen, Bon Jovi, and The Police are all present and accounted for. There isn't a single episode where you won't hear at least a handful of songs. While that's all fine and dandy, the original score for the show is quite good on its own. Unfortunately, though, it's often overshadowed for 80's hits.
If there are any complaints to be made about this season, it's that it doesn't feel much different from the first. The few times the plot branches into something different (i.e. Eleven joining a gang of outcasts), it never seems to have much consequence. Also, the show refuses to go into more background about the Upside Down and what it really is/what it wants. Obviously, this isn't the worst problem to have since the show has received nearly universal acclaim regardless. The Duffer brothers have already announced a third season with a conclusion being planned for either Season 4 or 5. If nothing else, it appears that they don't intend to drag the show out. Stranger Things Season 2 maintains the levels of drama, suspense, and fun, that came with the first season and you really can't ask for more than that.