Last month on this site, we reviewed a short film called Saudade from director Kemal Yildirim. It was an emotionally gripping piece of filmmaking with superb acting and some amazing cinematography. Today, we take a look at another work from Yildirim in the form of his 2012 feature length film, Rose. Coming a half decade before Saudade, the framework for Yildirim's abilities and technique are just as much on display in Rose. Though, the 2012 film stumbles only slightly in its storytelling compared to its shorter spiritual successor.
Based on a true story, the film focuses mostly on the character of Rose played by Helen Clifford. She's a drug addict and prostitute who struggles to support her six year old daughter, Ellie (Chelsea Alcock). In addition, she's in a relationship with Tony (Patrick Regis), an underground boxer. Rose is also victimized by Blondie (Mike Mitchell), the Czar of the town of Hellville. After discovering that Rose is turning tricks behind his back, he makes all of their lives a living hell.
As was the case with Saudade, the acting in Rose is excellent. The depressing plot leaves very few moments of joy which can be difficult for a cast. That's not the case here. Helen Clifford is great as the title character. She's believable every step of the way as she goes through withdrawals and is battered and stripped by Mike Mitchell's Blondie. Speaking of Mitchell, he plays a legitimately sinister antagonist. He's unpredictable in his actions and seemingly no one is safe from his actions. Clifford and Mitchell carry the entire film and their confrontations are filled with emotional and physical tension.
Despite being released six years ago at the time of this writing, Rose looks phenomenal. In our Saudade review, we said, "Discovering ways to make something so engaging feel so bleak is a true testament to the great direction and storytelling by Yildirim." There's no truer statement than that when applied to this film. Yildirim has a keen eye for beautiful, yet grim, camera shots and the cinematography never gets old. Every scene is dripping with detail and the film is simply wonderful to look at. Early in the film, Blondie and his crew bring Rose to a flophouse after chasing her down. The director is even able to make something as drab as a flophouse stand out visually. There are studio released theatrical films that don't look this good.
However, while the film does have a lot going for it, there are some negatives that mainly have to do with the plot. At its absolute core, Rose has an intriguing story and it's communicated well enough. That being said, the characters of Ellie and Tony are important pieces to the story on paper. Though, they never really feel that way in the context of the film. As Rose's daughter, Ellie should be one of the main focal points behind our protagonist's every action. Instead, Ellie feels more like a prop than anything. When it comes to Tony, his relationship with Rose doesn't feel that important either. It definitely is but sometimes it's hard to buy them as a couple.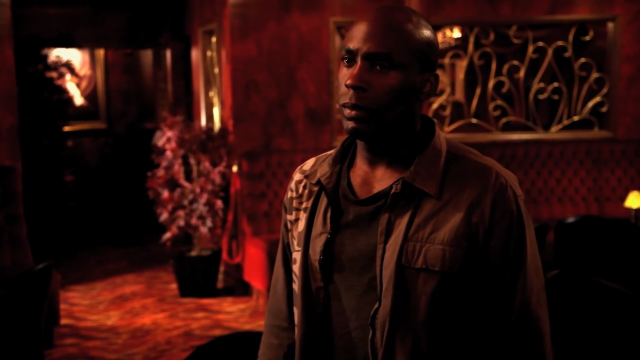 Perhaps the biggest flaw of the film is that it almost has too much story. Being based on true events, it wouldn't be a surprise if Yildirim and company were trying to tell the story as it was. Often times, filmmakers will attempt to be more cinematic and alter some of the events to better fit the flow of a film. Here, the film has too many wrinkles when the true meat of the story is the confrontation between the protagonist and antagonist. In this case, that's Rose and Blondie respectively with the former being the focal point. Helen Clifford's performance in the lead drives the film and the other characters should take more of a backseat to her. When the story focuses on Rose and Blondie together, the results are fantastic.
Our Score
Overall, Rose is a fine film with an emotional story that simply meanders at times. During some scenes, the pacing lingers but, at other times, moves too quickly during the more emotionally absorbing scenes. Another minor gripe is in the film's sound design which is all over the place at times but not necessarily backbreaking. Regardless, there's a lot to like about the film and its excellent cinematography and direction. After seeing two of Yildirim's works, he definitely has a distinct style and knows how to put together a captivating piece of cinema. With Rose, the seeds are sown for a budding filmmaker and it seems like the best is yet to come from Kemal Yildirim.