Time sure does fly. It has been a while since we've had a Short Film Review here on Cinema Smack. Let's not waste any more time then. Many of the shorts covered on this site have been uniquely odd and quirky but, ultimately, extremely satisfying and memorable. The track record continues this time around as we discuss Brandon Block's debut film, Psychic Murder.
Based on a story from Maxwell Gontarek, the film centers around a struggling comedian named Billy (Will Bernish). As it opens, Billy is shown striking out hard with his audience. Then, he turns the attention to his deformity: cartoonish, oddly shaped, three fingered hands. By the end of his set, Billy gets laughs from the crowd. He's then approached by a cutthroat agent, Mickey Goldsmith (Timothy J. Cox), looking to pair up with Billy. Goldsmith mistreats his lady friend, Puma (Tatiana Ford), before relaying the story of Adrian Mann (Matt Moores), a fellow comedian whose career Mickey destroyed following a fling with Puma. From here, Billy must decide whether or not partnering with Mickey is the best thing for his career or if he'll be sabotaged as well.
One thing that's unique to Psychic Murder is its cinematography. While we've covered many excellent looking short films on this site, this one sets itself apart with its muted color palette and soft lighting. There's a reddish purple hue that defines most of the film and a loungy haze that seems to hover over each of the shots. It's oddly reminiscent of something like the introduction to Jessica Rabbit in Who Framed Roger Rabbit. Despite its haziness, though, the film is quite sharp looking and still pleasing to the eye. Given the ruthless nature of a character like Mickey, the cinematography from Bethany Michalski gives an oddly relaxing feel in a tense situation for the lead character, Billy.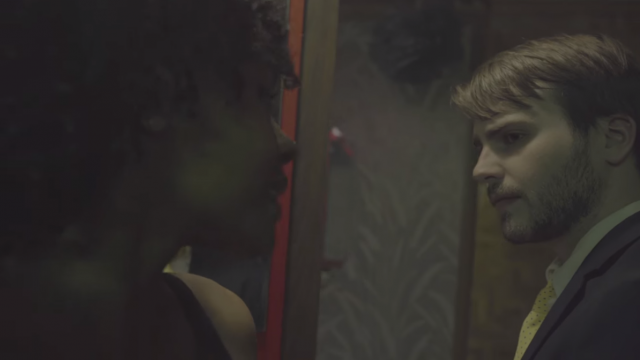 Speaking of the characters, the acting is definitely solid throughout. Will Bernish is good as Billy. Most of his time is spent acting awkward either on stage or in the presence of Mickey. You don't get too much insight into the character but you do feel for him in his current predicament. Tatiana Ford also impresses in her film debut. When you take into account Puma's past, you're unsure as to whether her and Mickey are in cahoots to sabotage acts or if she's simply looking to escape from his oppression.
Of course, Timothy J. Cox is spectacular yet again in Psychic Murder. While the focus may be on Billy's hands and his fledgling potential career, Cox steals the show. We've covered a number of shorts that Cox has starred in and each time he gives a standout performance. In addition, each of his characters feel different. Given his lengthy resume at this point, he has to be one of the hardest working independent actors on the scene especially when it comes to short films. Here, his unforgiving and malicious performance as Mickey is the highlight of the film. He's truly despicable and seems to take joy in breaking down others.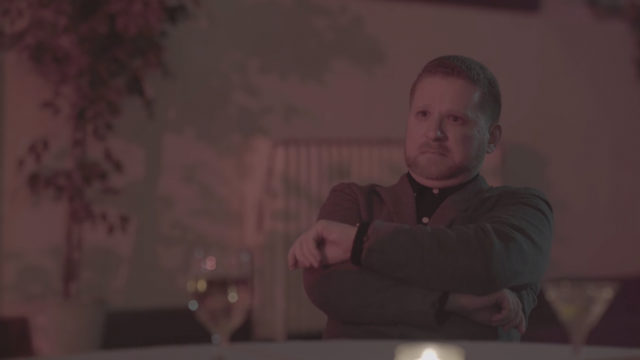 While the cinematography and performances are good, there's just something about Psychic Murder that's a bit off. It's as if there are some interesting ideas that don't all quite fit together. Billy, a comedian, clearly isn't the least bit funny. It's only when he turns the attention to his hands that people begin to laugh. Yet, even those jokes aren't funny. In addition, after he leaves the stage, Billy's hands are never mentioned again throughout the film. It makes you wonder why there was even an emphasis placed on them in the first part. Sure, the sight of his hands is somewhat surreal and reminds of Ken Cohen's short films, Cartoonish and Skin Baby. Though, there's something about the idea that doesn't fully grab you.
Our Score
Ultimately, Brandon Block's directorial debut is mostly a success. It's an interesting little story that's bolstered by its unique cinematography and some fine acting. Of course, Timothy J. Cox shines brightest which is often the case but everyone else does a fine job as well. It's nice to see a film that leaves you with plenty of questions, such as the relationship between Mickey and Puma, but leaves you satisfied overall. Again, there's something that's slightly off with the story of Billy but it doesn't hurt the film too much. If Psychic Murder is a sign of things to come from Brandon Block, more is certainly welcome.