Ladies and gentlemen, we made it. A year that has been truly hell for basically everyone is finally over. As we've discussed many times over the course of 2020, the year has been largely devoid of big name releases due to the COVID-19 pandemic causing the widespread closure of movie theaters. Despite an unusual and irritating year though, it actually hasn't been terrible for film if you've known where to look. Instead of summer blockbusters and highly anticipated theatrical experiences, more small studios and independent filmmakers helped fill the void left by the massive list of postponed titles beginning all the way back in March. However, it has been a very polarizing year and seemingly every publication's Best of 2020 list is going to be extremely different. While we often like to get a little weird with our year-end lists, 2020 is going to be like no other. There are some things you've heard of, some you haven't, some people have loved, and others that people have hated. In such a messed up year, what else could anyone really expect?
Before we get to our somewhat eccentric list of the Top 10 Best Films of 2020 though, we need to address the status of our usual Top 5 Best Television Shows portion of the year-end lists. In 2019, TV took a huge step back to make way for more independent and short films. Basically, 2020 continued that trend. While there were a handful of shows that we picked to be in the list, we've instead decided to forego the Top 5 Best Television Shows portion. It's increasingly difficult to actually assign a ranking to a TV show as the number of seasons go up and, especially, as the amount of time being dedicated to TV goes down. For 2021, reassessing the format for TV show coverage is something of a priority but, for the sake of this year's list, we're going to skip the longform writeups. However, for those who really want to know what was going to be covered here, it was as follows.
5. Dead to Me Season 2
4. The Queen's Gambit
3. Ozark Season 3
2. Better Call Saul Season 5
1. The Mandalorian Season 2
That being said, let's jump into Cinema Smack's Best of 2020!
---
Cinema Smack's Top 10 Best Films of 2020
*Disclaimer: Since we obviously aren't able to see every single film in a given year, titles like First Cow and Small Axe: Lovers Rock were not considered for this list.*
Honorable Mentions
This Top 10 was perhaps our most difficult one to assemble in the history of this site. 2018 was tough due to the lack of standout films but this year had so many great ones with so few amazing ones. In fact, this was the first year that there wasn't a single feature length film that was given a five star rating. Because of this, there was a huge log jam of titles that were considered but bumped out for various reasons. This includes a few that were locks to make our list a few days ago but lost out to other recently released films. Films like The Invisible Man, Swallow, Never Rarely Sometimes Always, Da 5 Bloods, and Sound of Metal were all narrowly edged out of the Top 10. Additionally, both The Trial of the Chicago 7 and On the Rocks were given high marks but didn't quite resonate as much as others on the list and got lost in the shuffle.
10. The Devil All the Time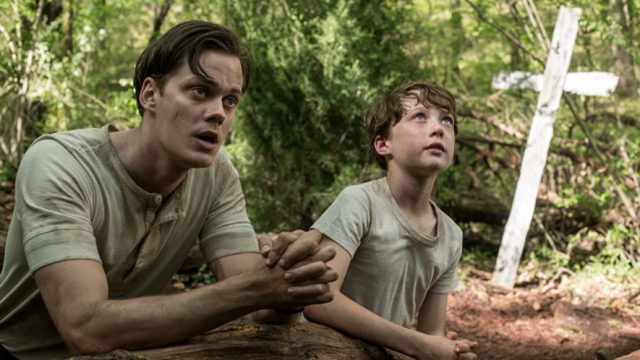 We stated before that this list was going to be polarizing so we may as well kick it off as such. Antonio Campos's Netflix exclusive, The Devil All the Time, follows a young man named Arvin (Tom Holland) over the span of twenty years as he interacts with numerous sinister characters and experiences the harsh realities of life in a backwoods town. The film begins with the meeting and courtship of Arvin's parents, Willard (Bill Skarsgård) and Charlotte (Haley Bennett), and shows the tough upbringing suffered by nine year old Arvin (Michael Banks Repeta). This is followed by tragedy before the film jumps years ahead to Arvin living with his foster family and adopted "step-sister," Lenora (Eliza Scanlen). Protective of Lenora, Arvin tries to protect her from the ugliness in the world but Reverend Preston Teagardin (Robert Pattinson) makes a quick impression on the teenaged Lenora. Meanwhile, Carl (Jason Clarke) and Sandy Henderson (Riley Keough) habitually pick up hitchhikers and perform a sort of lurid ritual on them for their own satisfaction and local lawman Lee Bodecker (Sebastian Stan) tries to secure his future in corrupt, unethical ways.
Frankly, there's a lot going on in The Devil All the Time but everything is done very well and all the storylines feel in tone with one another. The film boasts maybe the best ensemble cast of the year with every one of the above names getting their own time to shine at one point or another. With themes of loss, manipulation, cruelty, and vengeance, The Devil All the Time is a nasty film with very little levity to it. It's quite possible that this has  a lot to do with some of the film's backlash. This seems quite unfair though because the unpleasantness and wicked tension built up between the impressive cast of characters is more than enough to keep viewers on edge with constant moral questions.  It's an existential meltdown of a film as you question if any of these characters ever really had a chance at success to begin with given their community and social status. Even though The Devil All the Time isn't a pleasant viewing experience, it's one that's impossible to forget. Even at a hefty 138 minutes, this is one that you'll want to see through to the end.
Read our original review for The Devil All the Time here.
9. Blow the Man Down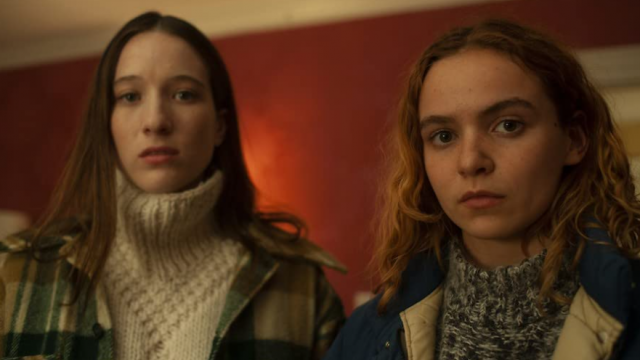 We began the list with a Netflix exclusive and now we move on to an Amazon Prime one. Bridget Savage Cole and Danielle Krudy's small town crime drama, Blow the Man Down, centers on two sisters mourning the death of their mother. Mary Beth (Morgan Saylor) and Priscilla Connolly (Sophie Lowe) argue about the possibility of them losing their house before Mary Beth storms off angrily to get drunk at a local bar. She befriends a man named Gorski (Ebon Moss-Bachrach) who she ends up leaving the bar with. The two end up getting in a car crash but flee the scene back to Gorski's home. There, Mary Beth discovers Gorski's sinister nature and a brief encounter results in bloodshed. Mary Beth returns home and recruits Priscilla to cover up the crime while also exposing the seedy underbelly of the small seaside town of Easter Cove, Maine.
If you're a fan of films like the Coen brothers' Fargo, then Blow the Man Down is definitely one for you. Its quirky comedic moments mixed with conspiracy, deceit, and, of course, the grim specter of death is pulled straight from a Coen brothers flick. There's also the small town feel that a filmmaker like Debra Granik emphasizes in her work on titles like Down to the Bone, Winter's Bone, and Leave No Trace. The two leads, Saylor and Lowe, are wonderful in the film and viewers will stick with them every step of the way. Margo Martindale also provides a quality friend and/or foe in the two-faced Enid Nora Devlin. On top of everything, Blow the Man Down is also very funny at times. Though, it's also quite good at being serious when the script calls for it. Despite a slew of potential influences, Blow the Man Down still feels like a wholly original experience as it nabs a spot on our Best of 2020.
Read our original review of Blow the Man Down here.
8. Soul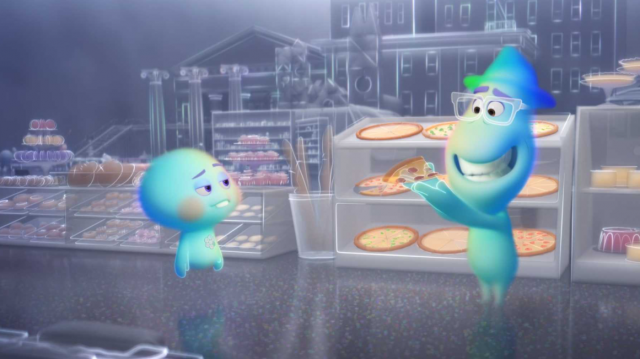 Continuing our trend of streaming exclusives, we turn to Disney+ for this entry. We also go from maybe the most depressing film on our list to one that's stuck between being a comedy and a drama and, finally, to the most joyful (at least most of the time). The newest collaboration from Disney and Pixar, Soul, sees Joe Gardner (Jamie Foxx), a failed jazz musician turned middle school band teacher, as he accidentally falls down a manhole after receiving an opportunity he's been waiting for his entire life. Joe's soul leaves his body and heads toward "the great beyond" but Joe is unwilling to succumb to his potentially fatal fall. Instead, he's tasked with being a mentor to a young, unborn soul named 22 (Tina Fey) and must find the inspiration, or spark, that will let 22 finally be born on Earth. Joe and 22 make a deal to find the spark together and, in return, 22 will allow Joe to take her place and return to Earth himself.
The best way to describe Soul is that it's a mixture of Disney/Pixar's Inside Out and Coco. The souls are reminiscent of the characters based on feeling in Inside Out while the colorful, otherworldly depictions of death and loss feel a lot like what they were going for in Coco. However, it should be stated that Soul isn't as good, or obviously original, as the other two films. It's hard to say if there's something specific missing from the film or if it's just the similarities to its two recent Disney/Pixar brethren but, either way, Soul is still another excellent outing for the companies. It also goes a bit beyond other computer animated films with its impressive looking human characters. There's a real sense of life in the human characters that hasn't always been there in previous animated films. Most of the plasticity and spiritless facial animation is gone as Soul kicks open the door as to what animators may be able to do with these types of characters going forward. Soul is also extremely funny and charming for a lot of its runtime with most of the best moments coming from Joe and 22 botching their initial arrival to Earth. As it just landed on Disney+ on December 25th, this film is the first on our list to not have been previously reviewed on this site. Regardless, Soul comes with a big recommendation even if films like Inside Out and Coco may have done a similar idea somewhat better.
7. Promising Young Woman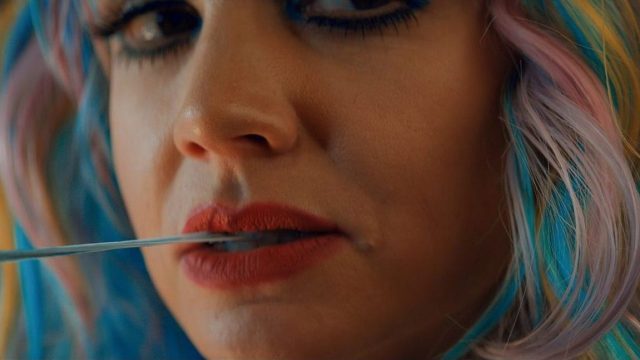 Speaking of films not previously reviewed on this site, we have Emerald Fennell' s pastel colored fever dream, Promising Young Woman. Carey Mulligan stars as Cassandra Thomas, a young woman who spends her days working in a coffee shop and her nights posing as a highly intoxicated piece of eye candy for scummy men to take advantage of. Every time a man takes her home though, Cassie reveals that she has faked being drunk in order to teach these men a lesson. It's only when she bumps into old classmate Ryan Cooper (Bo Burnham) that Cassie's traumatizing past with her friend, Nina, rears its ugly head. From here, Cassie seeks out the people that have wronged her and Nina to exact her revenge.
For some people, Promising Young Woman may be a tough pill to swallow as it can often be described as "man-hating." It's kind of a stereotypical view on how men observe women in public and how they may capitalize on a woman's vulnerability. It also likes to toy with how men view each other when opposed by the opposite sex in the insensitive "bros before hoes" mentality. Then, there are aspects of groupthink as the needs or wants of the many exceed those of the few. When something occurs like the heinous acts on Cassie's friend, Nina, it's suppressed to protect those involved or those looking to avoid responsibility. In the case of Cassie and her revenge mission, she continues to hold those accountable and make sure they receive their just deserts. While there are certainly going to be people that don't necessarily like the film's face value agenda, there's also something deeper to consider here. At its core, Promising Young Woman simply urges people to do the right thing even in the face of adversity. Sure, the film has a lot of fun with its subject matter, and even gets strangely rom-commy in its second act, but its ultimate message is simple and commendable. Led by the wonderful Carey Mulligan, Promising Young Woman is a cautionary tale to consider consequences and it's also one of the best cinematic experiences of the year.
6. Possessor
While The Devil All the Time may be the most depressing film on our Best of 2020 list, things don't get much darker or demented than Brandon Cronenberg's Possessor. The film follows Tasya Vos (Andrea Riseborough), an agent working for a secret organization that uses brain implant technology to control other people's bodies to carry out assassinations. Despite a successful assassination, Vos strays from the initial plan and begins suffering from some strange side effects. Due to her prowess, Vos's boss, Girder (Jennifer Jason Leigh), allows Vos to take on another assassination even though she has the inkling that something may be wrong. Vos begins tracking Colin Tate (Christopher Abbott), a man set to marry heiress, Ava Parse (Tuppence Middleton). Vos's mission is to possess Tate and murder his fiancée's wealthy CEO father, John Parse (Sean Bean). However, Vos struggles to properly carry out her tasks as she finds herself in conflict with the very man her mind inhabits.
Needless to say, Possessor is a trippy flick. It's also extremely violent and brutal at times. Essentially, it's a Cronenberg film. Just like his legendary horror director father, David, Brandon Cronenberg's DNA is seemingly entwined with the body horror subgenre. With its perfect balance of science fiction and horror, Possessor takes ideas like sentience and control to new heights. It shows how powerful the human mind can be as Vos not only has to fight against someone else's mind but also her own as she begins to have something of a psychotic break. Vos has clearly had previous issues shaking the thoughts and memories of past targets and is nothing short of unstable throughout the entirety of the film. As a viewer, you're constantly trying to figure out who's in control of Colin's body at any given time as the younger Cronenberg shows himself to be an expert storyteller. In our original review of Possessor, we called the film an "atmospheric nightmare" and, in all honesty, there's no better way to describe it. The horror genre has a new face with an old name and that name is Cronenberg.
Read our original review of Possessor here.
5. Color Out of Space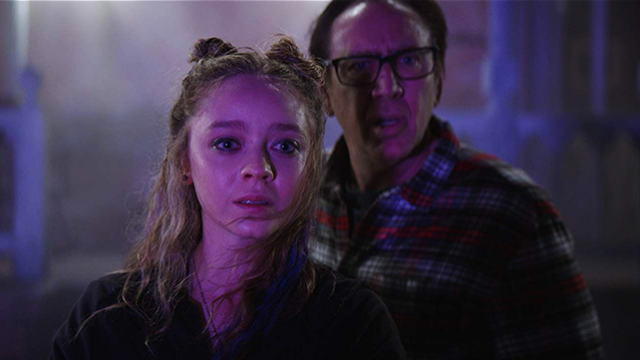 Another surreal sci-fi/horror flick? Yep. Writer/director Richard Stanley returns to the big screen after 23 years following the colossal failure of 1996's The Island of Dr. Moreau from which he was unceremoniously fired and, thankfully, his final product is worlds better this time around. Stanley's Color Out of Space centers around the Gardner family relocate to a secluded farm in fictional Arkham, Massachusetts. Soon after their arrival, though, a meteorite crashes onto their land emitting an otherworldly glow. Each of the Gardners, Nathan (Nicolas Cage), Theresa (Joely Richardson), Benny (Brendan Meyer), Lavinia (Madeleine Arthur), and Jack (Julian Hilliard), are affected by the strange force given off by the meteorite as bizarre events become the norm on their new family farm.
What sets something like Color Out of Space apart from Possessor can only be described as "fun." Though the subject matter is dark in tone and the film boasts some amazingly gory special effects, the film just has a wild and spacey vibe to it. It really gives you what you want in the way a film like John Carpenter's The Thing did back in 1982. You can't wait to see how crazy things can get while the Gardner family is torn apart but this neon glowing presence on their farm. What's even better about Color Out of Space is the amazing tale of redemption of its writer/director. Richard Stanley didn't deserve the treatment he got on the set of Dr. Moreau and it's awesome to see him back doing something as out there as Color Out of Space. There's really not much to criticize here either. Sure, you could argue that Nicolas Cage's acting is kind of hokey but even Cage has seemed to find his spot in acid trip films like this and Mandy. Coincidentally, Color Out of Space was the subject of our very first Lockdown 2020 Review once theaters closed. Surprisingly enough, it still resonates and stands out as one of the best films of the year after all this time.
Read our original review of Color Out of Space here.
4. Ma Rainey's Black Bottom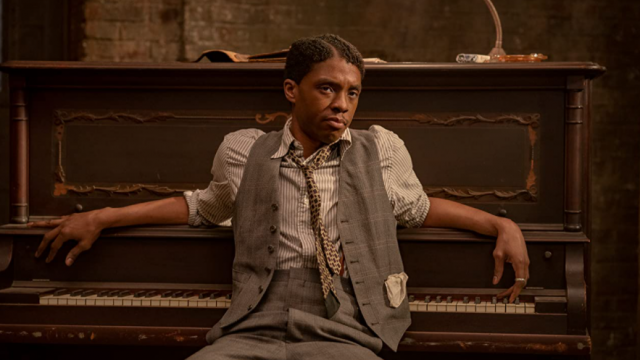 Just as with Soul and Promising Young Woman, we come to another end of the year release that finagled its way onto our Best of 2020 list. An adaptation of August Wilson's 1982 play, Ma Rainey's Black Bottom centers on a recording session in 1927 Chicago for the often overlooked "mother of the blues," Ma Rainey (Viola Davis). As Ma argues with her white manager and producer over control of her music, tempers flare between her band members as well. The rebellious Levee (Chadwick Boseman) wants to play his trumpet parts to his own satisfaction while the others recognize him as the talented hired gun that he is. In addition to clashing with Ma and his fellow bandmates, Cutler (Colman Domingo), Slow Drag (Michael Potts), and Toledo (Glynn Turman), Levee also has eyes for Ma's young girlfriend, Dussie Mae (Taylour Paige). From here, Levee's attitude becomes increasingly hostile towards his peers as things start to spiral out of control.
For the longest time, Spike Lee's Da 5 Bloods was penciled in to make our end-of-the-year list. Of course, with three late additions, Lee's film didn't quite make the cut. However, if there's one film that could fill that void, it has to be Ma Rainey's Black Bottom. While very different in terms of style and story, both films feature powerhouse performances and some interesting critiques on racism outside of the usual black versus white debate. With Ma Rainey, there's some of that but there's also an emphasis on racist ideals within the African-American community itself. There's also a lot of commentary on artistic control and, ultimately, respect. Viola Davis gives a fantastic performance as Ma Rainey but it's the late Chadwick Boseman who gives the performance of his career in his final film role before his shocking death. Boseman's Levee is a complex character with hopes and dreams with all the talent in the world to set him on the path to success. Yet, his hotheadedness and brash attitude tend to get him into trouble. Ma Rainey's Black Bottom is a film that transports you back to 1920's Chicago and takes you on a tense and dramatic ride, albeit with bits of levity, from start to finish. This film is most certainly one of the year's best.
3. Alone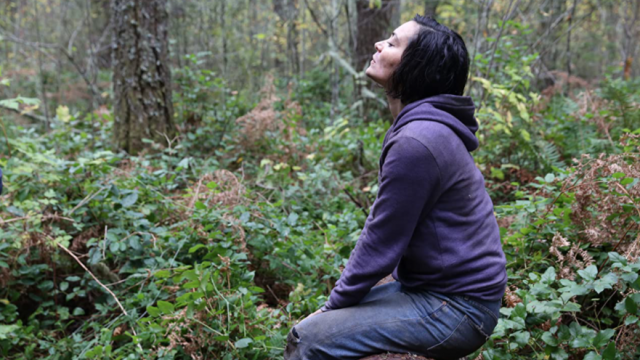 While many of the films on this list have been somewhat complex, the next two entries are quite the opposite. Their successes lie in their simplicity. John Hyams' minimalistic wilderness/stalker thriller, Alone, opens with the recently widowed Jessica (Jules Willcox) as she packs up a U-Haul with the intent of relocating and starting over. Unfortunately for Jessica though, she never makes it to her destination as she's kidnapped by the driver of a green SUV that has been following her. The driver, simply billed as The Man (Marc Menchaca), holds her captive somewhere in the Pacific Northwest where Jessica soon miraculously escapes. She must then survive not only the harsh wilderness but her increasingly dangerous captor who seemingly won't rest until he gets her back.
Visually, Alone is an astounding film. The dense forest, dangerous river rapids, and brutal weather changes always keep the location feeling fresh to the point where it doesn't just feel like a woman lost in the woods. Not only does the wilderness act as her shelter after she escapes, but it's also a source of constant punishment as well. Jules Willcox gives a pitch perfect performance as a character whose been battered, beaten, and thrashed about by both her kidnapper and the elements she escapes into. Marc Menchaca is also extra creepy as he puts on a kind façade that slowly unravels into someone who's absolutely unhinged. However, the most intriguing aspect of Alone is its primal man versus man/man versus nature conflict. At its core, the film is really about the ugliness of humanity invading the serene beauty of nature with a simple kidnapping plot over it. Not only will Alone frequently chill you to the bone but it'll also offer up plenty of topics for discussion.
Read our original review of Alone here.
2. Disclosure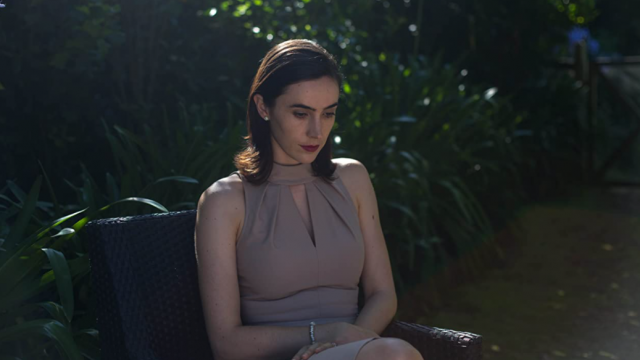 We may have lied a little bit in saying that this next entry was simplistic. Yes, the plot of Michael Bentham's Disclosure is simple but the film is chocked full of complex human interaction, emotion, and understanding. The film revolves around two married couples who have differing viewpoints on an incident involving their children. Danny (Mark Leonard Winter) and Emily Bowman (Matilda Ridgway) are appalled when their four year old daughter alleges that she was abused by their friends' son. The boy's parents, Joel (Tom Wren) and Bek Chalmers (Geraldine Hakewill), vehemently deny any accusations of abuse and refuse to acknowledge the claims of the Bowmans' daughter. The two couples come to a stalemate in how to handle the situation as anger, denial, pettiness, and retaliation take the place of expected compassion from both parties.
Disclosure is one of those rare film experiences where action and spectacle don't take precedence over words. Bentham's film is almost all dialogue driven as the two couples argue about what may or may not have happened according to their respective children. While Danny and Joel do their best to try smoothing over the situation as best as possible without ruining their own friendship, the women aren't having it. Though Matilda Ridgway's Emily is open to compromise, she insists on the Chalmers admitting possible wrongdoing. This leads to an amazingly cruel, yet heartbreaking, performance from Geraldine Hakewill. Everyone in the film does a great job but Hakewill puts in a star making performance as Bek. Not to be confused with the transgender documentary of the same name that was also released this year, Michael Bentham's excellent indie drama has probably received the least fanfare of any film on our list. However, the film is currently streaming free for Amazon Prime members right now so definitely check this one out. Basically, Disclosure shows how people can be at their best but also at their worst when unwilling to face a harsh reality. It's an easily relatable but distressing tale that any parent or victim of abuse should be able to empathize with.
Read our original review of Disclosure here.
1. The Vast of Night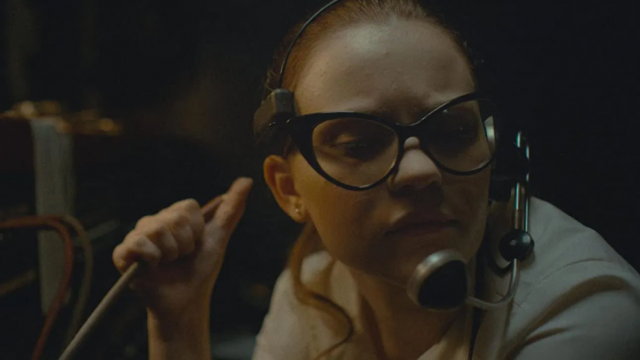 Top honors on Cinema Smack's Best of 2020 goes to a film that became the immediate favorite upon its release and refused to relinquish its spot for the rest of the year. Andrew Patterson's debut, The Vast of Night, focuses on small town disc jockey, Everett Sloan (Jake Horowitz), and switchboard operator, Fay Crocker (Sierra McCormick), as they experience some strange activity in 1950's New Mexico. While most of the town is at the local high school basketball game, Fay notices some type of interference on the switchboard. She reaches out to Everett as his radio broadcast is also picking up the noise and the two embark on a mission to identify the source. Fueled by related stories from radio callers, Everett and Fay uncover a mystery that's been long suppressed by their small town.
The Vast of Night is a film unlike any other in recent memory. It's a mixture of titles like The Twilight Zone, The X-Files, and Donnie Darko with an aesthetic splash of something like David Fincher's Zodiac in there. However, it doesn't rip any of these things off either. The film is a work of expertly told original science fiction. Again, there's just nothing really like it that's come out in years. Although The Vast of Night can look a bit murky at times, the film has an impressive aesthetic to it with its eerie green hue and an odd feeling of emptiness that envelops the quiet town. You also can't forget about the astounding camerawork with its perfectly paced long takes and extended tracking shots which will pull both casual viewers and cinephiles right into the world of the film. It transports viewers back in time for a brief foray with its likable cast of characters, nervous tension, and compelling mystery.   In a year where there have been many good films but not excellent ones, The Vast of Night stands a head above the rest.
Read our original review of The Vast of Night here.
---
That's going to do it for Cinema Smack's Best of 2020! We thought 2019 was a strange year but 2020 has trumped that in every way possible. Thankfully, there was still a lot of really great cinema to come out given the circumstances. Like we said at the beginning, this is going to be a very eccentric year in terms of "Best of" lists because everyone's is going to be wildly different based on the changing distribution methods. Still, there's a lot of really great films that almost made our list that people shouldn't shy away from. Essentially, 2020 will go down as a year that required a little research and discovery for people looking for quality cinema. If you have any suggestions/recommendations or just want to tell us your picks for the Best of 2020, leave your comments below!
As always, thank you to everyone who has been a part of Cinema Smack over the years! New ideas and features for the site are being brainstormed and, as previously mentioned, we're trying to figure out a way to get television back into the mix more without just the typical review style writeups. Of course, new reviews will be coming very soon into 2021 as well. Thanks again for checking out Cinema Smack's Best of 2020 and we hope everyone has a safe and happy new year!