Another year is just about in the books which means it's time for Cinema Smack's Best of 2019! As many of you are probably aware, we have not been kind to filmmaking this year and rightfully so. The majority of the year was stuffed with so many bland and mediocre films that we started to lose hope at one point. Highly anticipated titles like Avengers: Endgame, Once Upon a Time… in Hollywood, and It Chapter Two failed to live up to lofty expectations (at least on this site) and it felt like we were really going to have to stretch for a top 10 list. Luckily, that wasn't the case as the last few months of 2019 have more than made up for the pathetic lack of standout titles earlier in the year. In fact, there was such a logjam that we were adding and subtracting films from our top 10 until the very last minute. Overall, 2019 arguably had better films than 2018 but they all came out largely around the same time.
One thing that took a step back this year on Cinema Smack, however, was television representation. With a much larger focus being put on independent and short film reviews, television was the proverbial odd man out. 2020 is expected to be much different with more focus back on the medium. Either way, we've still cobbled together a list of our top 5 shows in preparation for Cinema Smack's Best of 2019. This year, there's even an unintentional theme to the list: short and sweet. A big issue here in the golden age of television is that showrunners and networks have allowed almost too much time to their shows. We've always complained about ones like The Walking Dead and Gotham which consist of way too many episodes during their seasons. Every entry on the television list fits into the short and sweet theme for varying reasons and they're all the better for it.
As always, remember that filmmaking is a subjective medium and your list is likely to be different than ours. These shows and films may not be the most technically impressive of the year but they resonated with us on this site. That being said, let's get to it!
---
Cinema Smack's Top 5 Best Television Shows of 2019
*Disclaimer: Obviously, we weren't able to watch every show this year so titles like The Handmaid's Tale and The Crown (seriously… we're going to watch this show someday) weren't up for consideration on this list. Also, HBO's Watchmen comes in as an honorable mention.*
5. GLOW Season 3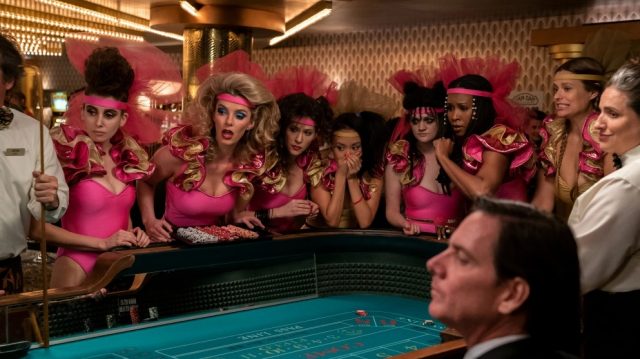 This year's list is going to be very different than our 2018 installment. With some of our 2018 picks being canceled or limited series, a lot of new faces will be represented. This first entry is the only show to make a return from the previous year. The third season of Netflix's ladies wrestling dramedy, GLOW, is another solid season with its lovable characters and quirky comedy. This season has the Gorgeous Ladies of Wrestling taking up a residency in Las Vegas. As headliners at the Fan-Tan Hotel and Casino, the ladies find great success but also must deal with the issues that come with it. Ruth Wilder (Alison Brie) struggles with her distant relationship from her boyfriend, Russell (Victor Quinaz), and also with her "will they, won't they" relationship with the show's director, Sam Sylvia (Marc Maron). Debbie Eagan (Betty Gilpin) passes the time away from her infant child by indulging in Sin City but is left unfulfilled. Meanwhile, Bash Howard (Chris Lowell) takes up a much bigger role and his marriage of convenience with Rhonda Richardson (Kate Nash) delivers some surprises.
The third season of GLOW offers up more drama than the series has ever seen. Similar to Netflix's other female-centric dramedy, Orange is the New Black, realistic struggles come to light for the characters which make them more relatable. Some people are immediately turned off by the prospect of a show about wrestling but GLOW is much more than that. It's a character driven show and a one paragraph rundown isn't enough to do them all justice. There really isn't even a lot of emphasis on wrestling at all in this new season. It's their profession but not the focus of the characters or the events they're involved in. Of course, there are still a lot of laughs to be had as well with Alison Brie's dopey Ruth and Marc Maron's cynical Sam being obvious standouts. One of the biggest positives of the show is its length. With only ten 30 minute episodes, GLOW is a breeze to watch through and will still leave you anticipating the show's announced fourth season.
4. The Witcher Season 1
With The Witcher Season 1 just dropping on December 20th, we had to binge this one to squeeze it onto this list over Watchmen. With only eight highly entertaining episodes, it wasn't a strenuous task by any means. The show sees the Witcher, Geralt of Rivia (Henry Cavill), hunting monsters and being discriminated against by other races. As a lethal swordsman, Geralt is frequently contracted by others to do their dirty work. In his travels, he meets an interesting cast of characters including a bard named Jaskier (Joey Batey) and Yennefer of Vengerberg (Anya Chalotra), a sorceress with issues of her own. He also shares a mysterious destiny with young Princess Cirilla AKA Ciri (Freya Allan) of Cintra whose city is burned to the ground by the Nilfgaard army.
Like GLOW, there's just way too much going on in The Witcher Season 1 to cover in a brief rundown. The show is based on a series of books from Andrzej Sapkowski which were also adapted into a massively popular trio of video games. Needless to say, the lore behind The Witcher is dense and, unfortunately, is left largely unexplained in this first season. Though, newcomers to the franchise aren't left completely in the dark. As the show continues, you're able to grasp enough of the concept to understand most of the world and what the characters are out to achieve. If you're looking for everything to be spelled out for you, The Witcher won't be a show for you. Instead, it explores the roots of its characters while leaving an air of mystery to the world they inhabit. It's kind of a mixture of Game of Thrones and Lord of the Rings and it should scratch that medieval fantasy itch for fans of these series even with its shortcomings.
3. The Mandalorian Season 1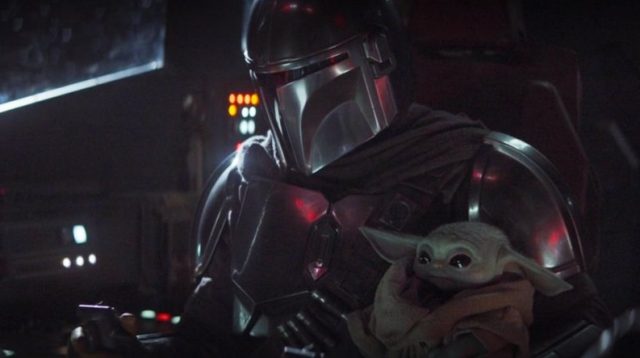 THIS. This is exactly what Disney and Lucasfilm should be doing with Star Wars moving forward. The debut season of The Mandalorian sees the title character, played by Pedro Pascal, as a bounty hunter five years after the fall of the Empire in Return of the Jedi. He's contracted by the leader of the bounty hunter guild, Greef Karga (Carl Weathers), to track down a valuable asset and deliver it to him. The asset is the newest pop culture icon/meme star, Baby Yoda or, more accurately, the Child. The Child forms a unique bond with the Mandalorian who becomes the Child's unofficial guardian instead of delivering him to Greef Karga. This leads the Mandalorian on adventures across the galaxy while teaming with other outcasts such as Kuiil (Nick Nolte), Cara Dune (Gina Carano), and IG-11 (Taika Waititi).
If some of the plot description sounds familiar, it's because it's basically the same general idea as The Witcher. With fans largely divided on all things Star Wars, it's nice to see that most people seem to enjoy The Mandalorian. With only eight episodes that vary from about 30 to 50 minutes each, it never overstays its welcome or leaves you confused or unfulfilled. Disney has had the wrong idea with its recent Star Wars films as they failed to have a cohesive plan for its sequel trilogy in the Skywalker saga. They also mishandled the idea of further stories outside of the saga with films like Rogue One and Solo still being firmly entrenched in events surrounding the saga. What makes The Mandalorian great is its separation from all of that and its focus on telling a new tale within the galaxy. The very existence of the show makes the galaxy feel much bigger and it opens up so many options for future tales outside of the flagship ennealogy.
2. Peaky Blinders Series 5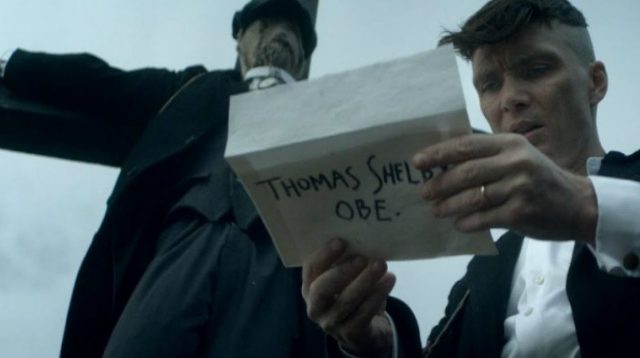 Only the second show this year to make a return from any of Cinema Smack's year-end lists, Peaky Blinders Series 5 continues the BBC One show's knack for pulse pounding drama with its tension filled disputes and combustible characters. This fifth series picks up with Shelby Company Limited suffering huge losses after the stock market crash of 1929. Tommy Shelby (Cillian Murphy), the leader of the Peaky Blinders, instructs his cousin, Michael Gray (Finn Cole) to pull their investment out of the market prior to its crash but Michael fails to do so. This leads to a rift between the two especially with Michael's new wife, Gina (Anya Taylor-Joy), buzzing in his ear. Tommy also joins forces with Sir Oswald Mosley (Sam Claflin), a controversial politician with a new vision for Britain.
The best thing about Peaky Blinders, other than its brief six episode structure, is that each series is mostly self contained. Yes, there's some carryover from one series to the next but, given the show's erratic release schedule, it's nice that you usually don't need a refresher to get caught up. The show continues to be one of the most underrated in all of television and it's really a shame. Cillian Murphy is always fantastic as the tormented Tommy Shelby as is Paul Anderson as Tommy's brother, Arthur. Finn Cole's Michael becomes a thorn in Tommy's side as does series newcomer Anya Taylor-Joy. There are even a few surprise returns in different capacities that will definitely satisfy fans. As previously mentioned, Peaky Blinders is criminally underrated and more eyes need to be on this show. Period.
1. Chernobyl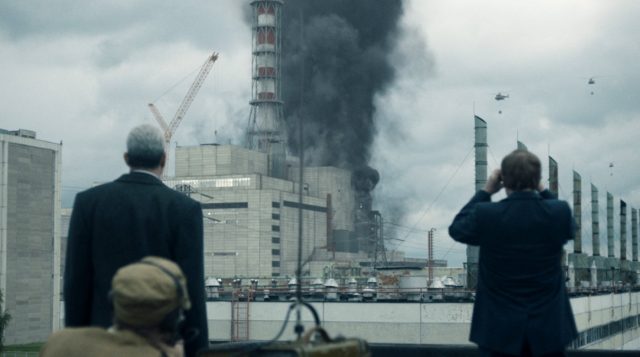 Last year, HBO's limited series, Sharp Objects, made its way onto our best television list at #5. This year, it's HBO's Chernobyl coming in with top honors. The five part series chronicles the shocking reactor explosion at the Chernobyl Nuclear Power Plant in 1986 and its effects on the surrounding areas and its inhabitants. It mostly follows the investigation of the explosion led by the deputy director of the Kurchatov Institute, Valery Legasov (Jared Harris), the Council of Ministers' deputy chairman, Boris Scherbina (Stellan Skarsgård), and nuclear physicist Ulana Khomyuk (Emily Watson). Though, it also highlights the efforts of first responders and those involved with the cleanup of the disaster as well. The investigation ultimately leads up to a thrilling recollection of the cause of the events and the lasting effect of the disaster to this day.
Chernobyl is essential viewing. The real-life disaster is one that took place long enough ago to the point where many people today aren't entirely familiar with what happened. Sure, they may recognize the name but they don't understand what a catastrophe it truly was. This dramatized version isn't a fun watch but it's as haunting as it is riveting. The show opens with the explosion itself and not the cause behind it. As a viewer, you're left to uncover details with Legasov, Scherbina, and Khomyuk and nothing is clear until the show's end. Jared Harris has never been better than he is Valery Legasov and both Stellan Skarsgård and Emily Watson also put in noteworthy performances. While there's a lot of fun to be had with the other entries on our Top 5 list of television shows, Chernobyl is different. Its story is powerful and should never be forgotten as the calamity that it certainly was. Again, Chernobyl is absolutely essential.
---
Cinema Smack's Top 10 Best Films of 2019
*Disclaimer: As was the case with our top TV shows, we obviously weren't able to watch every single movie this year. Films like Honey Boy, Pain and Glory, and 1917 weren't considered for this list.*
Honorable Mentions
As always, we'll start things off with a few honorable mentions. This year is probably more deserving of this section than any previous year with how many films emerged at the end of 2019. Two films that were early considerations for this list were John Wick: Chapter 3 – Parabellum and the polarizing Extremely Wicked, Shockingly Evil and Vile. While the former maintains the quality of its two predecessors, the latter was met with a lot of unfair criticism. The goal of Extremely Wicked was to make viewers see Ted Bundy in a positive light while trying to comprehend his atrocities. In that regard, it succeeded greatly. Then, there were two films that had been penciled into the top 10 until very recently. James Mangold's Ford v Ferrari and Mark Wilson's excellent indie film, Wade in the Water, were narrowly ousted by some last minute releases. Speaking of which, one recent release that was in play for a spot was Noah Baumbach's Marriage Story. While it's not going to crack our top 10, it's still highly recommended viewing and sits just barely behind our #10 pick.
10. Knives Out
Rian Johnson follows up the very lackluster Star Wars: The Last Jedi with the brilliantly executed whodunit murder mystery, Knives Out. The film centers on the eccentric Thrombey family whose wealthy patriarch, Harlan (Christopher Plummer), dies under mysterious circumstances. With each member of the family painted as a suspect with motive, private investigator Benoit Blanc (Daniel Craig) vows to get to the bottom of Harlan's death. He teams with Harlan's kindhearted nurse, Marta Cabrera (Ana de Armas) to piece together events on the night of his death and which role each family member potentially had to play.
Knives Out is a film that's just fun. It's along the lines of Johnson's 2005 film, Brick, with its murder mystery, extensive cast of characters, and dark comedy. After the debacle that was The Last Jedi, this is the film that Johnson needed to make and he knocks it out of the park. The film's cast is one of its best assets with talent like Jamie Lee Curtis, Michael Shannon, Toni Collette, Chris Evans, and especially Don Johnson giving knockout performances. The film's slightly unspectacular ending drags it down slightly but it also feels like Knives Out is a film that gets better with increased viewings. It may not top our Best of 2019 list but it's definitely one of the funnest films of the year.
Read our original review for Knives Out here.
9. The Irishman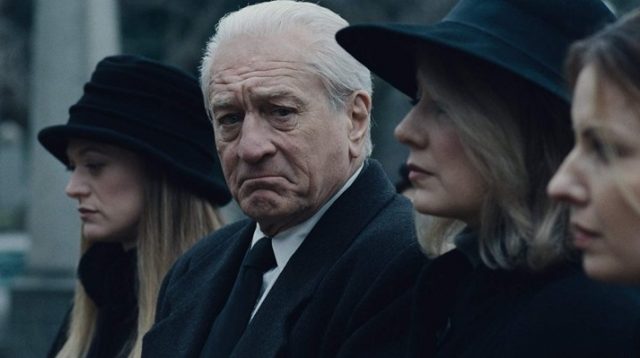 Martin Scorsese returns to his gangster roots and brings Robert De Niro, Joe Pesci, and Al Pacino with him for his universally praised film, The Irishman. The film opens with an elderly Frank Sheeran (De Niro) recounting his time as a Mafia hitman and labor union activist. Over the years, he strikes up a close friendship with the quietly menacing Russell Bufalino (Pesci) and, later, Teamster president, Jimmy Hoffa (Pacino). Hoffa's participation in organized crime lands him in prison for a time and, upon his release, issues arise with fellow Teamster Anthony "Tony Pro" Provenzano (Stephen Graham). Of course, by 1975, Jimmy Hoffa disappears without a trace.
The Irishman probably isn't going to stand out as Scorsese's best film but it's still extremely well made, acted, and has a great story. Robert De Niro and Al Pacino do their best work in years on this film and Scorsese coaxing Joe Pesci out of retirement proved to be an ingenious move. All three men prove why they've become synonymous with these types of films and that they're still elite talents. There has been a lot of discussion about the de-aging effects used for De Niro's Frank Sheeran but they're mostly unwarranted. If you didn't know that De Niro was 76 years old, you probably wouldn't even notice the de-aging. It's done tastefully and doesn't sully the story that the film is trying to tell. Even though The Irishman probably won't be uttered in the same breath as Goodfellas or The Departed, it's still another wonderful achievement from the timeless Martin Scorsese.
Read our original review for The Irishman here.
8. Uncut Gems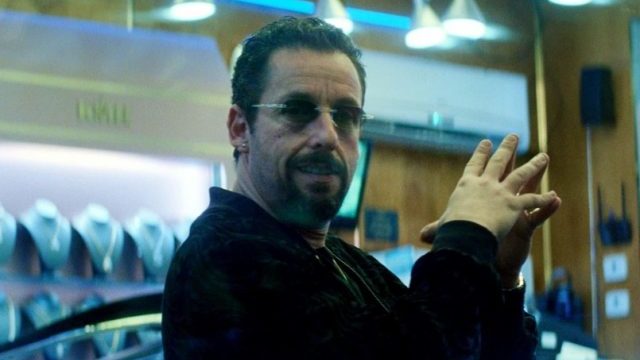 Whoa. A new Adam Sandler film is actually recommended viewing? It sure is and it's also the only film on this list that wasn't previously reviewed on Cinema Smack. This one sees Sandler take on a semi serious role as Howard Ratner, a jeweler always looking to make high-stake bets while letting his debts pile up. There's also a strain on his family life as he's separated from his wife, Dinah (Idina Menzel), and has a volatile relationship with his mistress, Julia (Julia Fox). Though, Howard expects his fortunes to turn around with the arrival of an uncut opal he intends to sell at auction. He's introduced to Boston Celtics player Kevin Garnett, who plays himself, by a mutual associate, Demany (LaKeith Stanfield). Garnett swaps his championship ring for the opal and Howard plans to place a huge bet on Garnett's performance in his upcoming game.
Benny and Josh Safdie generated some buzz with their 2017 film, Good Time, and continue their brand of filmmaking with this new title. Sandler has never been better than he is in Uncut Gems. In 2019, the actor's best comedic work is far behind him with films like Billy Madison and Happy Gilmore a distant memory compared to bombs like Jack and Jill and The Ridiculous 6 in recent years. The Safdie brothers hit a sweet spot with Sandler here as he's allowed to do some of his typical schtick but with a good script and some expertly paced drama. It wouldn't be a surprise to see Sandler's name lumped into the Best Actor category at the upcoming Academy Awards. As for the film in general, it's required 2019 viewing. It has a great cast, great story, a ton of drama, and even plenty of laughs to go with it. Don't miss out on Uncut Gems.
7. Jojo Rabbit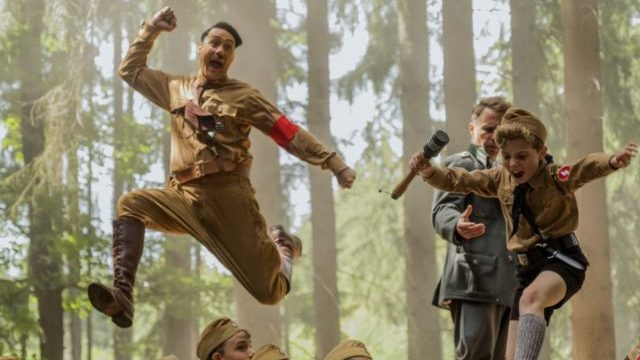 It feels like Jojo Rabbit is a film that is largely flying under the radar. It's not all that surprising given its subject matter but it's just too much fun and gushing with heart to leave it off of our list. The film centers on Johannes "Jojo" Betzler (Roman Griffin Davis), a member of the Hitler Youth in Nazi Germany. His devotion towards Nazism sees him always trying to appease his imaginary friend, a silly and childlike Adolf Hitler (Taika Waititi). However, Jojo soon discovers that his mother, Rosie (Scarlett Johansson), is hiding a young Jewish girl, Elsa (Thomasin McKenzie), in their house. Conflicted, Jojo gets to know Elsa while helping to conceal her from real threats and make excuses for her presence to his friend, Hitler.
Yes, Jojo Rabbit sounds absolutely ridiculous and it kind of is. It's mostly played for laughs but there's also a ton of heart and a message of understanding at its core. Even though Jojo knows that housing Elsa is a very serious offence, he only sees her as a human being. He expects to see a monster with "Jew powers" but, as he gets to know Elsa more, his opinion of her changes drastically. This type of understanding and acceptance is elementary level but it makes the film that much more touching. The two young actors, Davis and McKenzie, are excellent in their roles with Scarlett Johansson and Sam Rockwell providing added star power. Taika Waititi is also hilarious as Adolf Hitler. It's understandable that people have been torn on Jojo Rabbit. It's the type of film that will trigger thoughts of insensitivity but its ties to Hitler and Nazism are only to poke fun. If you're easily offended or closed-minded , you aren't going to like this film. For others looking for a good time filled with childhood innocence, check out Jojo Rabbit.
Read our original review for Jojo Rabbit here.
6. Doctor Sleep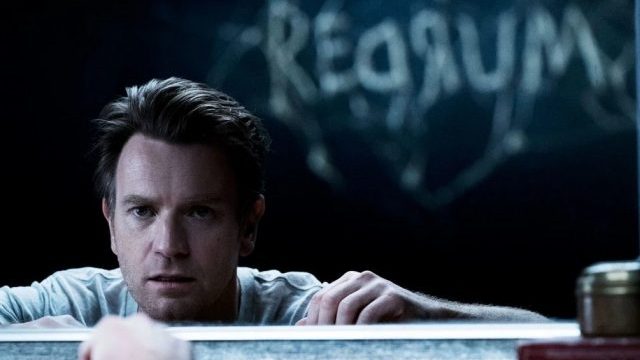 Wait a minute. A sequel to Stanley Kubrick's horror masterpiece, The Shining, is on a Best of 2019 list? Yes it is and with good reason. 39 years after the release of Kubrick's film, Doctor Sleep hit theaters and was better than anyone probably could've anticipated. The film follows an adult Dan Torrance (Ewan McGregor) who struggles to get his life back on track after years of alcohol abuse. He relocates to a small town and befriends Billy Freeman (Cliff Curtis) who gets him a room and a job. Dan gets clean and uses his "shining" abilities for good and also begins to communicate telepathically with a young girl named Abra Stone (Kyliegh Curran). Meanwhile, the villainous Rose the Hat (Rebecca Ferguson) and her cult, the True Knot, ramp up their efforts to find people that shine to feed off their "steam." It's here that Abra accidentally exposes herself to Rose as a large source of steam. Dan and Abra must then team up to thwart Rose and the True Knot for good.
On paper, the plot is very far removed from that of The Shining. While that may seem like a bad thing, it's executed to perfection here. Writer/director Mike Flanagan had the unenviable task of making a sequel to a beloved film while also honoring Stephen King's very different vision of both his original 1977 novel and its 2013 followup, Doctor Sleep. Somehow, Flanagan balances all these things extremely well and crafts a film that should satisfy both King and Kubrick fans alike while also being its own thing altogether. The performances from everyone involved are top notch with Rebecca Ferguson mostly stealing the show as Rose the Hat. It's bewildering that so many classic films have received new modern sequels and Doctor Sleep is among the best of them.
Read our original review of Doctor Sleep here.
5. The Peanut Butter Falcon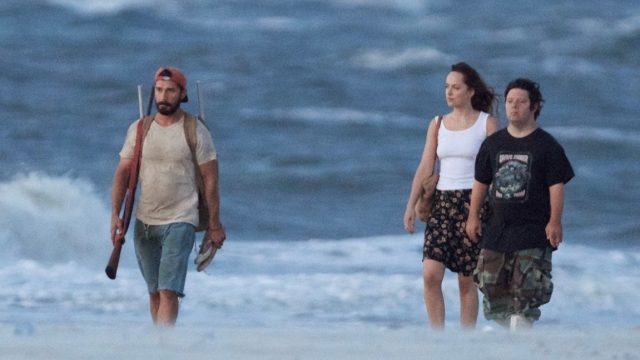 It's truly a shame that one of the most satisfying and emotional films of the year has been often ignored. A modern retelling of Mark Twain's work with his Huckleberry Finn character, The Peanut Butter Falcon sees Zak (Zack Gottsagen, a young man with Down syndrome, living in a nursing home while constantly watching old wrestling tapes and dreaming of becoming a pro wrestler. He chooses to run away from the home to train at a wrestling school in North Carolina headed by his favorite wrestler, the Salt Water Redneck (Thomas Haden Church). After stowing away on a fishing boat, Zak meets Tyler (Shia LeBeouf), a no-nonsense fisherman and thief who feuds with some other local fisherman. Tyler begrudgingly teams up with Zak on the run from their respective issues. From here, the two have a journey of self-discovery while also learning from each other. Tyler promises to get Zak to the wrestling school despite attempts from Eleanor (Dakota Johnson), a nursing home employee, to bring him back.
As we said in our full review of The Peanut Butter Falcon, the film is essentially the 2019 version of Rain Man. In this case, that's not a bad thing as this is one of the most heartfelt and emotionally touching films on our list. Shia LeBeouf gives probably the best performance of his career (maybe outside of his semi-autobiographical Honey Boy) and newcomer Zack Gottsagen is pitch perfect in a role tailor made for him. Dakota Johnson is also very charming as she forms an unlikely trio with them, her intentions notwithstanding. The film is surprisingly funny as well with much of the humor coming from Gottsagen and his interactions with LeBeouf. Even with its comedy, it never plays the character's disability for laughs which is definitely a good thing in 2019. Unfortunately, The Peanut Butter Falcon is a film that's going to be disregarded come awards season but it won't be forgotten on this list.
Read our original review of The Peanut Butter Falcon here.
4. The Farewell
Speaking of heartfelt and emotionally touching films, we may have called #5 on our list the best in that regard if it wasn't for Lulu Wang's The Farewell. This film focuses Chinese-American college student, Billi (Awkwafina), as she finds out her grandmother, dubbed Nai Nai (Shuzhen Zhao), is diagnosed with terminal lung cancer. Her family, including her parents, Haiyan (Tzi Ma) and Jian (Diana Lin), decide to keep the diagnosis from Nai Nai as they travel to China for a rushed wedding for Billi's cousin, Hao Hao (Chen Han). Billi's parents don't want her to come to China citing that Billi will unintentionally give away Nai Nai's impending doom. Billi shows up in China anyway and spends as much time as she can with her ill grandmother in their remaining time together.
Most people have jumped on the bandwagon for Bong Joon Ho's much lauded Parasite since its release and have forgotten about the other Asian-centric family drama. For us here at Cinema Smack, The Farewell remains one of the best of the year while Parasite is highly recommended but too disjointed to make our final Top 10. When it comes to The Farewell, there's a lot to praise from Lulu Wang's semi-autobiographical story to her direction. The film oozes with detail and is a visual masterpiece as well. However, this one is all about its characters. Specifically, rapper-turned-actress Awkwafina and Shuzhen Zhao steal the show with some of the best performances put to film in 2019. The relationship between Billi and Nai Nai is undeniably sweet and honest which makes Nai Nai's fate all the more sad. Ultimately, The Farewell holds the strange distinction of being one of the most joyfully depressing films of the year and shouldn't be missed by anyone.
Read our full review of The Farewell here.
3. Rocketman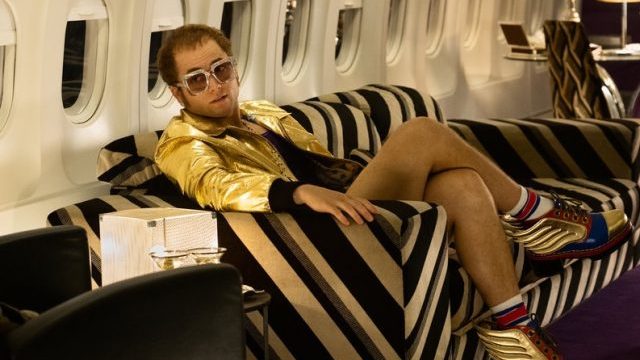 For the longest time, Dexter Fletcher's Rocketman sat unchallenged in our #1 spot due to the wasteland of films in the first three quarters of the year. The film centers on the life and times of the cultural and rock and roll icon that is Sir Elton John. It opens with a costumed Elton (Taron Egerton) telling his life story in a rehab facility. He grows up in a cold and largely unloving household with his mother, Sheila (Bryce Dallas Howard), while his father, Stanley (Steven Mackintosh) serves in the Royal Air Force. The only affection he gets is from his grandmother, Ivy (Gemma Jones), who also acknowledges his love of music. He enrolls in the Royal Academy of Music, begins playing in a band, and slowly works his way up to the enigmatic musician he's known as today. Along the way, he meets his longtime songwriting partner, Bernie Taupin (Jamie Bell), as his career soars to new heights and his personal life plummets.
This biopic follows up Fletcher's previous work on last year's Bohemian Rhapsody following the departure of original director Bryan Singer. Unlike that film though, Rocketman is a much more faithful look into all of the excess that comes with a musician's lifestyle. This film boasts as much sex, drugs, and rock and roll as you'd expect from someone as eccentric and dazzling as Elton John. The story isn't told chronologically as it instead jumps around via wild musical numbers. That may turn some viewers off but this "musical fantasy" approach is perfect for someone like Elton John who has always aimed to shock and wow his audiences. Even if you're not a fan of the singer's work, the film is way too much fun and Taron Egerton completely transforms into the character. Egerton should be nominated for his work at this year's Oscars but it wouldn't be a surprise if he were snubbed either.
Read our original review of Rocketman here.
2. Star Wars: The Rise of Skywalker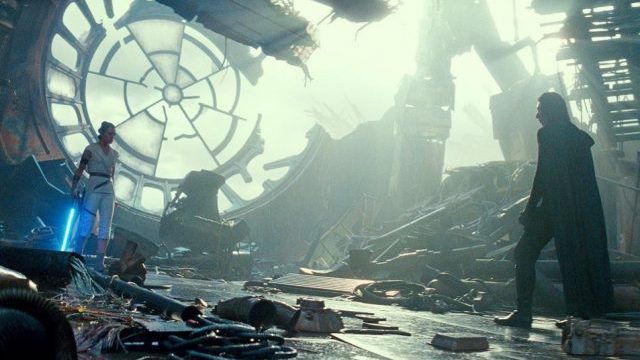 OK. Don't get mad. Star Wars: The Rise of Skywalker is the ninth and (supposedly) final entry into the Skywalker saga. Newly trained Jedi Rey (Daisy Ridley) unites with escaped stormtrooper, Finn (John Boyega), and Resistance pilot, Poe Dameron (Oscar Isaac), to lead the Resistance into one final battle against Kylo Ren (Adam Driver) and his First Order. However, Emperor Palpatine (Ian McDiarmid) reveals that he's still alive following the events of Return of the Jedi and aims to team with Kylo Ren to end the Resistance. Rey, Finn, and Poe have help of their own in the form of past heroes like General Leia Organa (Carrie Fisher), Chewbacca (Joonas Suotamo), and Lando Calrissian (Billy Dee Williams).
This one lands at #2 because of the effects it had on me personally. The waves of nostalgia hit hard all throughout The Rise of Skywalker and it made me remember what I love about Star Wars. This film has been met with such criticism upon its release and it truly has a love or hate reputation at this point. All of the negative critiques are legitimate and the plot holes abysses are aplenty. It's a messy film overall and it's unforgivable that the brain trust behind this new trilogy didn't have a plan laid out to get them where they wanted to go. BUT… the likable characters, visuals, action, and the finality of the story secure a pass for all of The Rise of Skywalker's shortcomings. Again, this film is pure nostalgia and, no, that's probably not the best way to rank a film in a Best of 2019 list. Regardless, I loved this film just as I loved the nostalgic trip that was Star Wars: The Force Awakens. J.J. Abrams captured the spirit of Star Wars and that's more than can be said for George Lucas's prequel trilogy or Rian Johnson's Last Jedi.
Read our original review for Star Wars: The Rise of Skywalker here.
1. Joker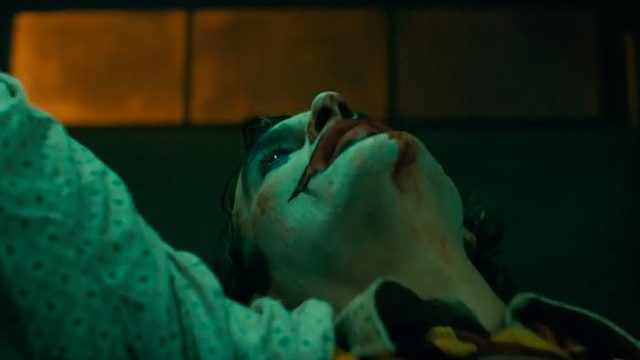 Joker has been penciled in at #1 on our Best of 2019 list since the day it released. Set in 1981, the story follows down-on-his-luck clown for hire and aspiring comedian, Arthur Fleck (Joaquin Phoenix). Arthur is often overlooked and even bullied by others in a crime riddled Gotham City. His lone supporter is his mother, Penny (Frances Conroy), who he takes care of. He also visits a psychiatrist who keeps him medicated for a mental illness that gives him bouts of uncontrollable laughter. After being assaulted by a gang of teenagers, he's put in danger of losing his job and eventually does. With his world crashing down around him and a city in chaos, Arthur's descent into madness and inevitable transformation into the Clown Prince of Crime is put into motion.
In our review of Joker, we said that the film's "deep dive into the dark recesses of a psychotic mind may even make it the most potent film based on a comic book character ever." That opinion has not changed whatsoever. It's the best work the film division of DC Comics has done in at least a decade. It's more than just another superhero film. Joker is a work of art. The film is a violent and brutal look at a world that seemingly can't be saved by a man who wants to set it aflame. The subject matter in Joker was enough to scare movie theaters across the country to prepare for potentially violent situations. That's the impact that this film had upon its release. What's most shocking is that a film like Joker came out in 2019. It feels more like a fierce 70's thriller like Taxi Driver than a modern comic book movie. We didn't even mention Joaquin Phoenix and his masterful performance in the title role. The man deserves an Oscar nomination at the very least. Needless to say, everything comes together for director Todd Phillips and company on Joker. It's, without doubt, the best film to come out in 2019.
Read our original review of Joker here.
---
Well, that's it for our Best of 2019 list! It has certainly been a strange year. The hangover from a subpar 2018 was harsh with so many underwhelming films. Yet, 2019 pulled through during the last quarter with an insane amount of solid titles. Judging by some of the year-end lists that have already come out, everyone's will be wildly different due to quality here at the end of 2019. Feel free to leave your picks for the best of the year in the comments below!
Thank you to everyone who has been a part of Cinema Smack over the years and for those who hung in there through the early 2019 rough patch. We're looking forward to seeing what 2020 and a new decade has in store for film and television. Thank you for reading Cinema Smack's Best of 2019! Have a safe and happy new year!